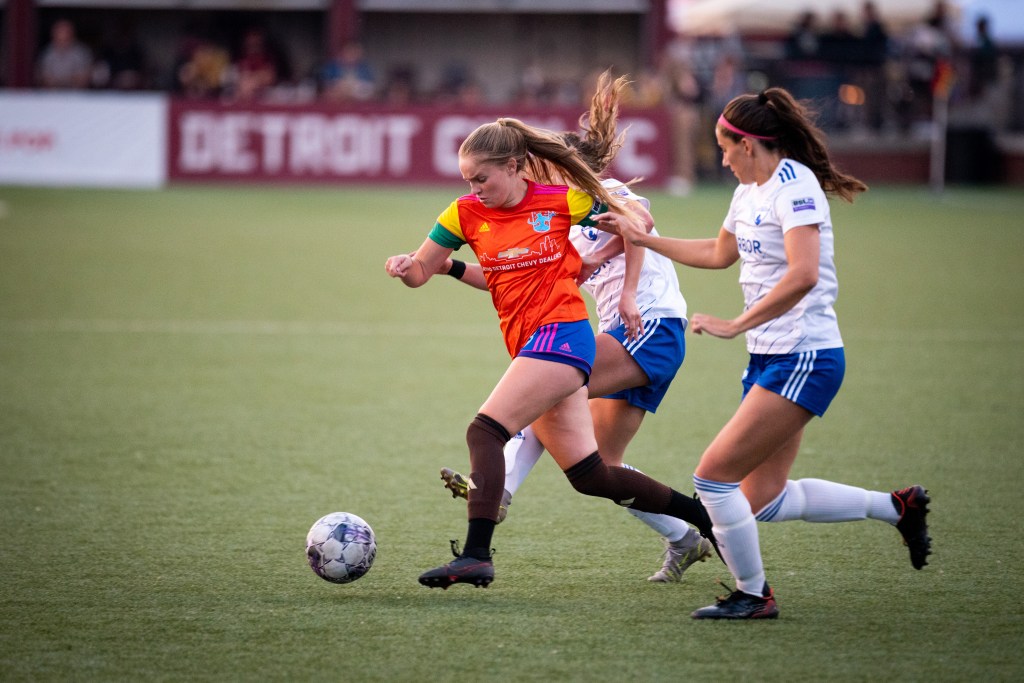 Detroit, Michigan – After dropping their match to Midwest United on the road earlier in the week by a score of 4-1, Detroit City FC suffered their second consecutive loss by a score of 2-0 at home on Friday night. 
Midwest United, in similar fashion to Tuesday evening's match, got on the board very early on as forward Elle Otto slipped by DCFC's backline to find herself one on one with Le Rouge goalkeeper Gabby Schriver and then flicked her shot over and around the keeper to take a 1-0 lead in the fourth minute.
Detroit City would see the ball find the back of the net just a couple minutes later but the goal was called back as forward Ellie Pool was ruled offside to keep Le Rouge scoreless, Pool also saw a goal disallowed in Tuesday's 4-1 loss.
DCFC would continue to create chances in the box as the first half played on but could not come through with an equalizing goal despite a good look at a header from Pool as the match reached the 15 minute mark.
The first yellow card of the night was awarded to Midwest United defender Ava Metaj as Le Rouge was setting up a run at goal but Metaj put her hands on the ball right outside the penalty area in the 19th minute.
Midwest United goalkeeper Isabelle Okoroafo limped off the field in the 42nd minute as she came up injured after punting the ball away, forcing a substitution for backup goalie Heather Leja.
During the five minutes of extra time in the first half, United had a golden opportunity to extend their lead to two but Schriver had a very quick reaction to the shot attempt five feet in front of her as she made an incredible diving stop to her left to keep Le Rouge in the match.
Midwest United opened up the second half with a run that saw their shot get past Schriver but was called offside to keep the score at 1-0.
Midwest United picked up their second and third yellows of the evening just over 15 minutes into the second half as midfielders Olivia Dault and Madison Cotta were a bit too physical with Le Rouge players.
14 year old forward Lily Jeakle made her first appearance at Keyworth Stadium for DCFC as she subbed on for Pool 20 minutes into the second half of play.
DCFC picked up their first yellow of the match while the second 45 minutes carried on as midfielder Avery Peters tripped up Elle Otto in space in the 77th minute to prevent a Midwest United counter attack.
United upped their lead to two a minute after Peters' yellow as the ball found Peters in the box which then took an indirect bounce off her head to get behind Schriver for an own goal.
Le Rouge failed to muster quality opportunities to get themselves on the board in the final 10 minutes of the match which ultimately led to a 2-0 defeat.
With the loss, DCFC has fallen to fifth in the Central Conference Great Lakes Division of the USL W League with a record of 2-3-3, one point behind Midwest United. Next up, Le Rouge will travel to Cleveland for a midweek fixture against Cleveland Force before a quick turnaround which will see Le Rouge welcome table-topping Flint City AFC to Keyworth next Saturday. A huge match for Detroit City FC's fading playoff hopes, tickets are available at this link.
DCFC Starting Lineup: Schriver (GK), Duncan (83'), Karolak, Soulis, Baeron (C) (75'), Stephan, Pagett (45'), Blomquist, Pool (64'), B. Gardner (75'), Martin (75')
DCFC Used Subs: Peters (45'), Jeakle (64'), E. Gardner (75'), Addison (75'), Clark (83'), Grimaldo (75')
Bookings: Peters (77')
Midwest United Starting Lineup: Okoraofo (GK) (42') Albert, Metaj, Gilmore, Cox (45'), Dault, Thomasma, Cotta, Currie, Blitchok, Otto
Midwest United Used Subs: Leja ('43), Wierenga (45'), Bennett for Currie, Vance for Metaj, Gamo for Dault, Brunnick and #14 on for Otto and Blitchok
Goalscorers: Otto ('4)
Bookings: Metaj (19'), Dault (61'), Cotta
For more information about Detroit City FC, visit detcityfc.com and follow @DetroitCityFC on Twitter and Facebook and @detroitcityfootballclub on Instagram.
##DCFC##
Please send all media inquiries to media@detcityfc.com.
Primary Media Contact: Jarrett Maki
(Sports Information Director, Jarrett.Maki@detcityfc.com)