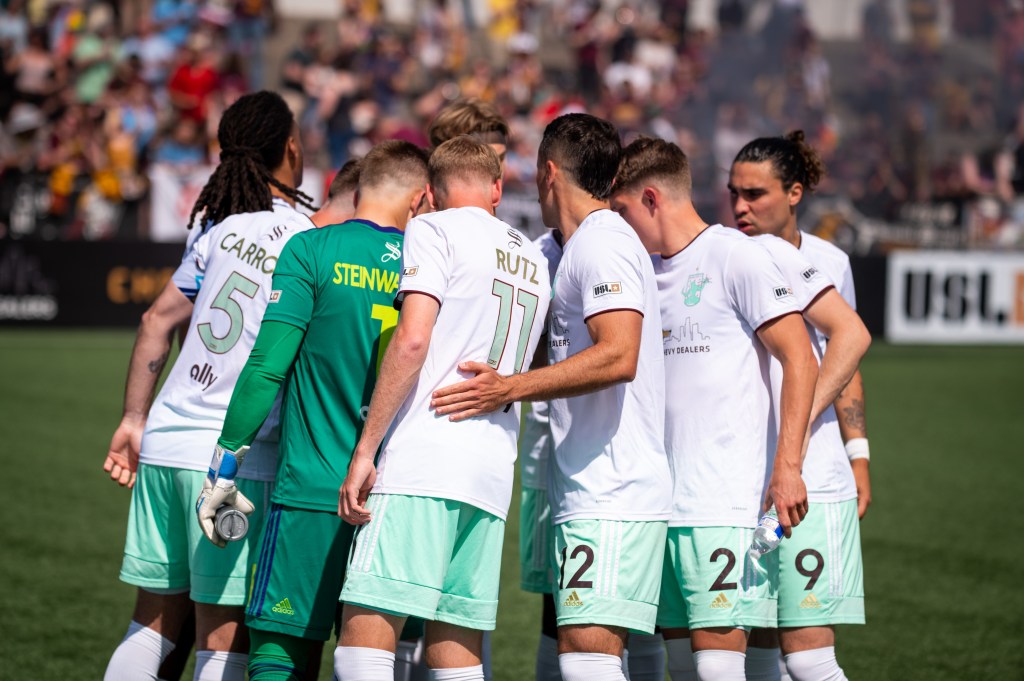 Stream (ESPN+) | DCFC Match Notes |2023 DCFC Roster | Charleston Battery Match Notes
Detroit, Michigan – After having a week off, Detroit City FC's USL Championship side will be back in action Wednesday night as they hit the road to South Carolina to face off against the Charleston Battery for the first time this season. The match will be streamed on ESPN+ while also on Sirius XM FC channel 157. Kickoff is scheduled for 7:30 PM.
Last time out, Le Rouge blanked Birmingham Legion FC 1-0 thanks to a special strike from midfielder and Man of the Match Maxi Rodriguez in the first 45 minutes. Rodriguez was also named to the USL Championship Team of the Week for his performance in Week 12. It was Rodriguez's second appearance this season in the Team of the Week with the first coming in Week 2.
It was the squad's second straight win and third of the season. It was also Nate Steinwascher's second straight clean sheet after holding the defending USL Championship Playoff Champions San Antonio FC to a scoreless 90 minutes two weekends ago.
The roster for Detroit City FC will look a bit different after it was announced that the club has acquired forward Dario Suarez and defender Brett Levis from FC Tulsa on Tuesday. Suarez has traveled with the team and is eligible for selection. In a corresponding transaction, FC Tulsa has acquired midfielder Tommy McCabe who had played four consecutive 90′ for Detroit City FC.
Detroit City FC currently sits in 10th place in the Eastern Conference with a record of 3-2-7, amassing 11 points from 12 matches. For Charleston, they are placed at the top of the Eastern Conference with 24 points. The Battery have recorded seven wins and three ties on the year. They were decimated by Indy Eleven in their last match though, losing 4-0 at home after picking up a red card inside two minutes.
Wednesday night could serve Detroit City a challenge to put goals on the board as Battery goalkeeper Trey Muse recently won Week 12 USL Championship Player of the Week after recording a ten-save shutout against Rio Grande Valley FC.
Charleston Battery is coached by former Detroit City FC head coach Ben Pirmann. Pirmann was at Detroit City FC from 2013-2018 and lead Le Rouge to the 2017 National Premier Soccer League's Midwest Division title.
This is Pirmann's first season in Charleston after spending four years at Memphis 901 FC. Last season, Charleston and Detroit City FC played to a 1-1 draw at Keyworth Stadium early on in the season.
In this fixture last season, Detroit City FC bested Charleston by a score of 3-0 thanks to a brace from Pato Botello Faz. Kickoff time for the midweek matinee is set for 7:30 p.m.
For more information about Detroit City FC, visit detcityfc.com and follow @DetroitCityFC on Twitter and Facebook and @detroitcityfootballclub on Instagram.
##DCFC##
Please send all media inquiries to media@detcityfc.com.
Primary Media Contact: Jarrett Maki
(Sports Information Director, Jarrett.Maki@detcityfc.com)