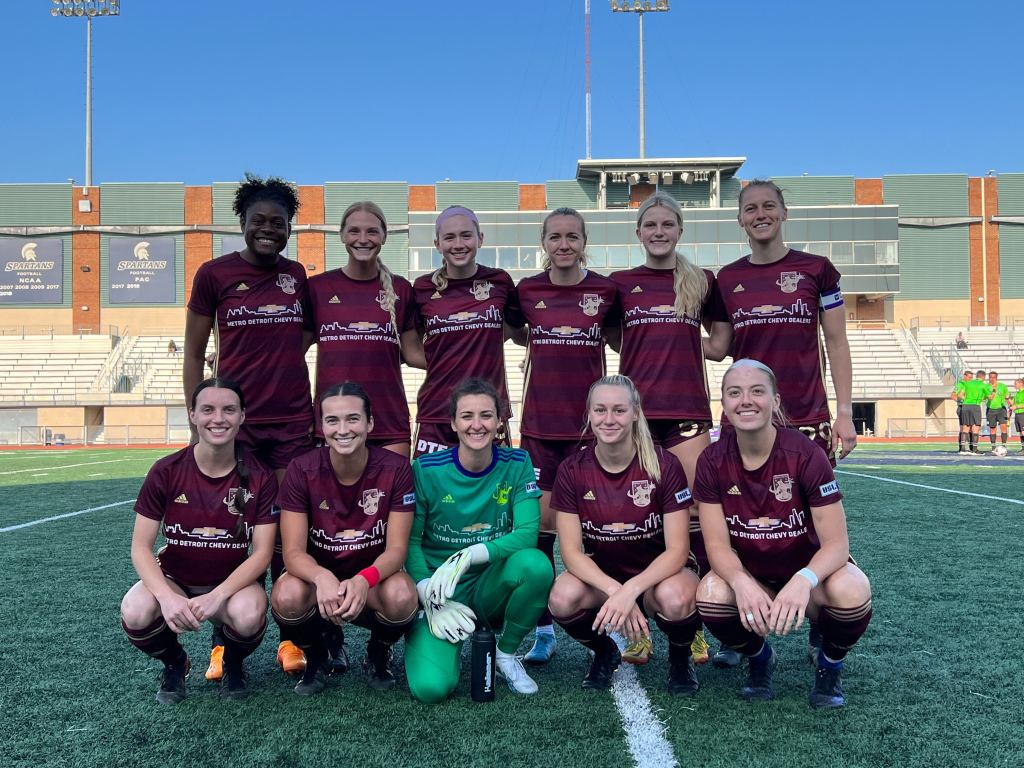 Cleveland, Ohio – After drawing 2-2 against the Flint City Bucks last weekend, Detroit City FC traveled to Cleveland to square off against Cleveland Force SC at DiSanto Field where they recorded their first win of the year by a score of 2-0.
Le Rouge goalkeeper Gabrielle Schriver was active early on, recording two saves in the sixth and 26th minute of the first half of play.
The game's first and only yellow card was given early on to DCFC forward Kenna White in the 22nd minute.
Both sides went back and forth to start off the match as neither side could find the back of the net throughout the first 35 minutes of action despite multiple shots on goal.
Forward Kayla Addison was giving Cleveland's backline some issues in the first half as she created some chances for shots but could not convert. In the 30th minute, she found herself near the top of the 18-yard box but struck her shot too hard as it sailed over the crossbar.
Le Rouge midfielder Avery Peters broke the stalemate in the 37th minute with a banger off her left foot that sailed by goalkeeper Lillian Morgan and into the top left section of the goal.
Schriver continued to be in form to start off the second half as she rejected back-to-back shots in the 49th minute coming off a promising Cleveland offensive sequence.
DCFC came out firing to start the final 45 as defender Emillie Gardner booted a rocket in the 51st minute that missed just left. Addison and midfielders Gabriella Pool and Syd Blomquist also had opportunities in between the 52nd and 60th minute but their attempts all barely missed the target.
Detroit City kept up the offensive intensity throughout the second stanza as a cross found forward Brynn Gardner found herself open by the back post for a tap-in goal. That was all the scoring DCFC needed to put the game away.
With the win, Le Rouge earned three points and their first victory of the season. They now have six points on the year and move up to third in the Great Lakes Division. This was the first win for first-year head coach David Dwaihy.
Detroit City FC turns their focus to Saturday for the first doubleheader in club history with the USL Championship squad welcoming Birmingham Legion FC to Keyworth Stadium, with kickoff scheduled for 4 PM and then the USL W League side welcomes in Kalamazoo FC for a 7 PM kickoff. One ticket gets you into both matches with exit and re-entry allowed in between matches. Get your tickets for Saturday's double header here!
Starting XI: Schriver, Baeron (89) (C), Soulis, Karolak, Gardner, Peters, Blomquist (89), Pool (76), Addison (89), Francis (62), White (76)
Substitutes: #10 Brynn Gardner for #52 Adelle Francis, #3 Drew Martin for #24 Kenna White, #2 Emily Pagett for #32 Gabriella Pool, #9 Kayla Addison for #19 Eliza Fisher, #17 Syd Blomquist for #27 Amanda Britain, #29 Elisa Baeron for #12 Rayann Pruss
Scoring Summary:
DET: Avery Peters, 37'
DET: Brynn Gardner, 86'
For more information about Detroit City FC, visit detcityfc.com and follow @DetroitCityFC on Twitter and Facebook and @detroitcityfootballclub on Instagram.
##DCFC##
Please send all media inquiries to media@detcityfc.com.
Primary Media Contact: Jarrett Maki
(Sports Information Director, Jarrett.Maki@detcityfc.com)