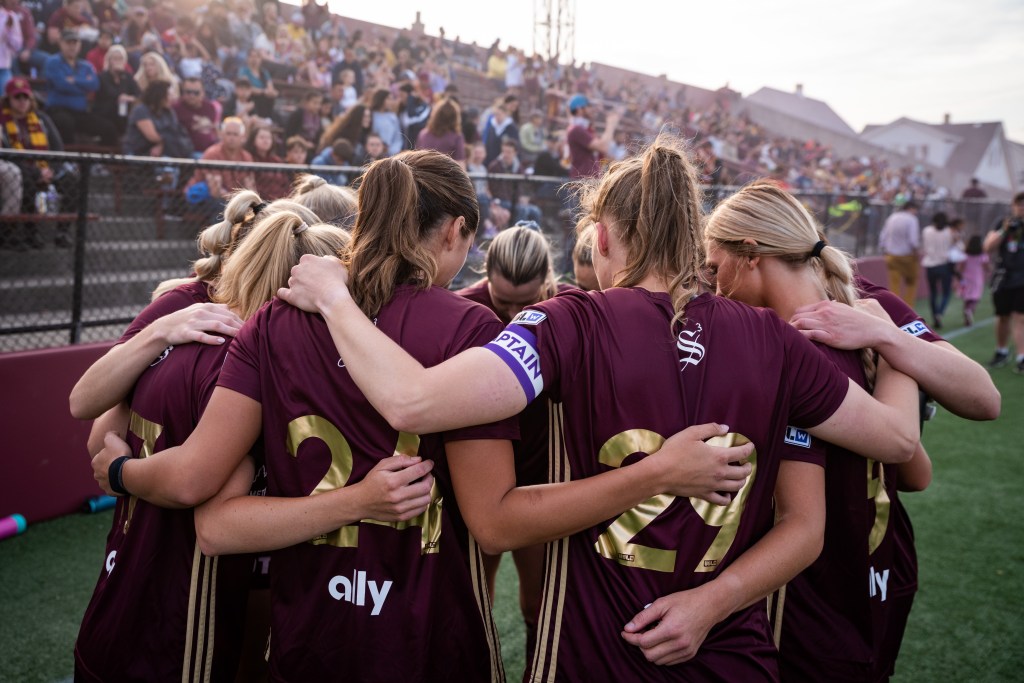 Detroit, Michigan – Detroit City FC (0-1-0) kicked off its 2023 USL W League campaign with a hard-fought and entertaining 0-0 draw on Saturday night against the visiting Flint City AFC (1-1-0) in front of a crowd of 4,743 at Keyworth Stadium.
The visitors from Flint would begin the match on the front foot, attacking the Detroit City FC backline early and often, doing well enough to earn a handful of early corner kicks. These set-pieces would not amount to much as Le Rouge stood tall to answer the call time and time again.
After the match passed the six-minute mark, Detroit City FC began to establish possession and look to take the match to the visitors. This would be achieved by play being run through midfielder Syd Blomquist who was a key figure for Le Rouge throughout the course of the match.
The best chance for Detroit City FC would come in the 28th minute when forward Kenna White did well to turn her defender, take a touch inside of the area and get a shot off. This shot was saved well by the Flint keeper who made a fantastic reflex save to keep Le Rouge off of the scoresheet.
Then, Detroit City FC goalkeeper Gabby Schriver would make an impressive save of her own, quickly getting down to her left to get a strong palm on a dangerous shot from inside of her penalty area. This save would be her best of the evening as every other shot she faced would either be from a great distance or not much of a threat.
Following halftime, both sides would come out of the break and do more of the same for the second half. It was again Detroit City FC who would ask the most questions of Flint going forward.
Le Rouge came the closest to scoring in the second half of play when forward Ellie Pool latched onto a ball and took a well-placed shot but Flint's Peighton Northrup was there to make an incredible fingertip save to her right to keep Detroit City FC off of the scoreboard. Despite her save, the ball was still inches from crossing the line. Heartbreak.
That would be the final point of action in the match as a late push from Detroit City FC did not result in a goal and they were able to keep Flint at bay to see off the clean sheet in their season opener.
Detroit City FC's next match in the USL W League is set for Wednesday when Le Rouge is on the road to take on Kalamazoo FC.
For more information about Detroit City FC, visit detcityfc.com.com and follow @DetroitCityFC on Twitter and Facebook and @detroitcityfootballclub on Instagram.
##DCFC##
Please send all media inquiries to media@detcityfc.com.
Primary Media Contact: Jarrett Maki
(Sports Information Director, Jarrett.Maki@detcityfc.com)