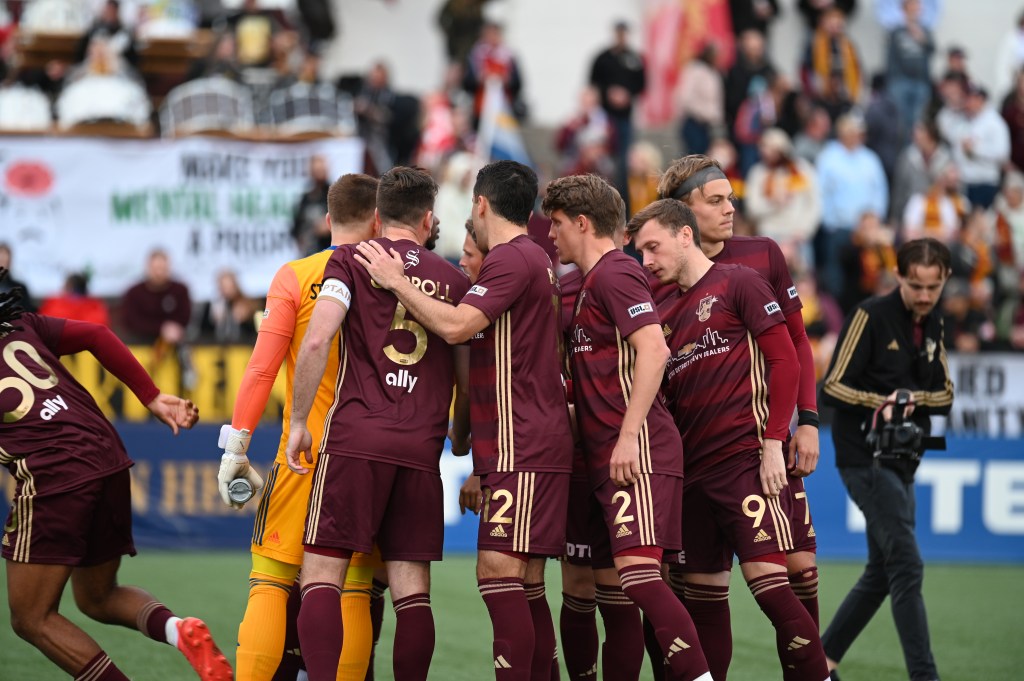 Detroit, Michigan – Detroit City FC split the points with 8th placed FC Tulsa Saturday night.
Manager Trevor James made three changes to the starting lineup following their 1-0 loss to the Tampa Bay Rowdies, with Rhys Williams, Skage Lehland, and Thomas Mccabe all being handed starts.
It was a dominant start for Le Rouge, controlling possession and pinning FC Tulsa back in their own half in their best 20 minutes of the season. This would pay dividends in the 10th minute, when #8 Abdoulaye Diop would pick up a loose ball after a miscontrol from #7 Skage Lehland and smash one into the bottom right corner from about 25 yards out to give DCFC the lead in the 10th minute
DCFC's sustained pressure would continue to produce chances as just 4 minutes later, #7 Skage Lehland, and #9 Ben Morris would combine on the top of the box leading to a deflected shot that would be stopped by a miraculous one handed save while falling backwards from FC Tulsa's GK #24 Michael Nelson.
FC Tulsa would slowly start working into the game and in the 31st minute get their best chances of the half, as #10 Rodrigoi da Costa would find himself on the top of the box and slip in just subbed on #6 Baline Ferri who would roll on off the post from just 10 yards out.
Chances would continue to come for FC Tulsa in the 38th minute as they would strike the post again through a curling effort from about 20 yards out from #7 Marcus Epps.
In the 45th minute FC Tulsa's constant pressure would pay off as they would find themselves back in the game, after #12 Michael Bryant conceded a penalty from a handball on a corner, which would be converted by #92 Dario Suarez.
The 2nd half would be a defensive showcase for both sides, as both teams' offenses would be neutralized for a majority of the half.
The first action of the half would come in the 55th minute when #30 Devon Amoo-Mensah would be called into action making what would end up being a result saving goal line clearance while falling.
Just 5 minutes later DCFC would create their best chance of the half through some clever combination play between #7 Skage Lehland, and #8 Abdoulaye Diop who would slip in #9 Ben Morris who would fire a shot near post that would be pushed away by Tulsa's goalkeeper #24 Michael Nelson.
In the 83rd minute #2 Rhys Williams would see red after picking up his second yellow card of the game after a late tackle on #24 Michael Nelson.
Smelling blood FC Tulsa began to push forward in search of a winner against a ten man Le Rouge, creating 3 different chances during stoppage time that would lead to shots on goal.
All of which were met and stopped by #1 Nathan Steinwascher whose efforts would make sure DCFC left with one point.
DCFC will look to finally jumpstart their season next Saturday, May 13th as they will look to get revenge against the Tampa Bay Rowdies in the reverse fixture in Florida after losing to them 1-0 just a week ago.
Match Details:
Detroit: Steinwascher; Billhardt, Amoo-Mensah, Caroll ( C ), Bryant, Williams, Diop, Mccabe, Rutz, Lehland, Morris
Subs not used: Shellow, Fisher, Ballard, Robinson
Booked: Matthews, Williams, Bryant, Diop
Goal scorers: Diop 10'
Tulsa: Nelson, Tetteh, Bourgeois ( C ), Ruxi, Levis, Fernandez, Bird, Yosef, da Costa, Suarez, Epps
Subs not used: Wormell, Bernal, Corrales, Malou, Pearson
Booked: Tetteh, Bird
Goal scorers: Suarez (P) 45'