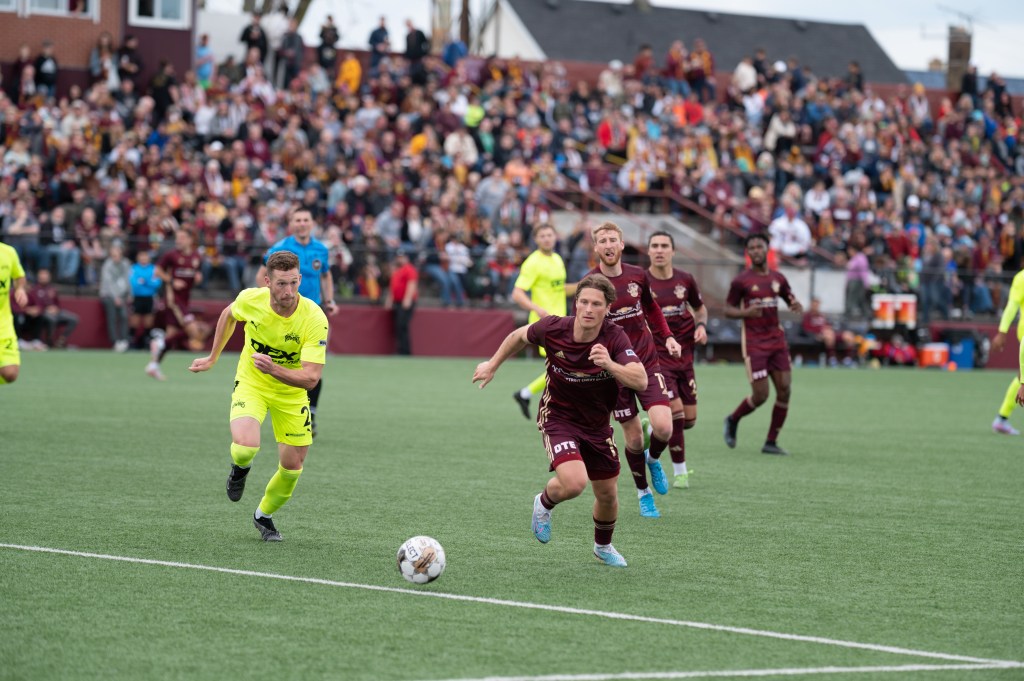 Stream (ESPN+) | DCFC Match Notes | 2023 DCFC Roster | USL Championship Notes | FC Tulsa Match Notes
Detroit, Michigan — Detroit City FC is back at home on Saturday night for an evening encounter against Eastern Conference foes FC Tulsa. Kickoff is scheduled for 7:30 PM with broadcasting available on ESPN+ and TV20. Tickets are still available but going fast with the Gold Section already sold out! Get your tickets at detcityfc.com/tickets.
Le Rouge are coming off their sixth 1-0 loss of the early USL Championship season, this time to the Tampa Bay Rowdies. Detroit City FC deployed the same Starting XI that played against Minnesota United FC at midweek and would play well in the early stages of the match, keeping the Rowdies at bay for most of the match.
Going forward Detroit City FC struggled to create chances, coming the closest on an audacious bicycle kick attempt by Yazeed Matthews which just sailed over the crossbar.
This containment of the Rowdies would last until the 80th minute when defender Devon Amoo-Mensah committed an unlucky handball inside of his own penalty area, awarding a penalty to the Rowdies. The spot kick was converted by the visitors for the win. Le Rouge had a chance to steal a point at the death as substitute forward Skage Simonsen saw his shot cannon off of the crossbar in second-half stoppage time.
FC Tulsa comes into Saturday's contest also needing a win as they currently sit in 8th place in the Eastern Conference, holding a record of 1-4-3. FC Tulsa most recently drew 1-1 with the leaders of the Western Conference, Sacramento Republic FC. Their goal against the Republic broke Sacramento's six-match clean sheet spell.
Last season Detroit City FC drew with FC Tulsa at home in a 2-2 thriller, they were also defeated by FC Tulsa on the road by a score of 3-1.
For more information about Detroit City FC, visit detcityfc.com.com and follow @DetroitCityFC on Twitter and Facebook and @detroitcityfootballclub on Instagram.
##DCFC##
Please send all media inquiries to media@detcityfc.com.
Primary Media Contact: Jarrett Maki
(Sports Information Director, Jarrett.Maki@detcityfc.com)