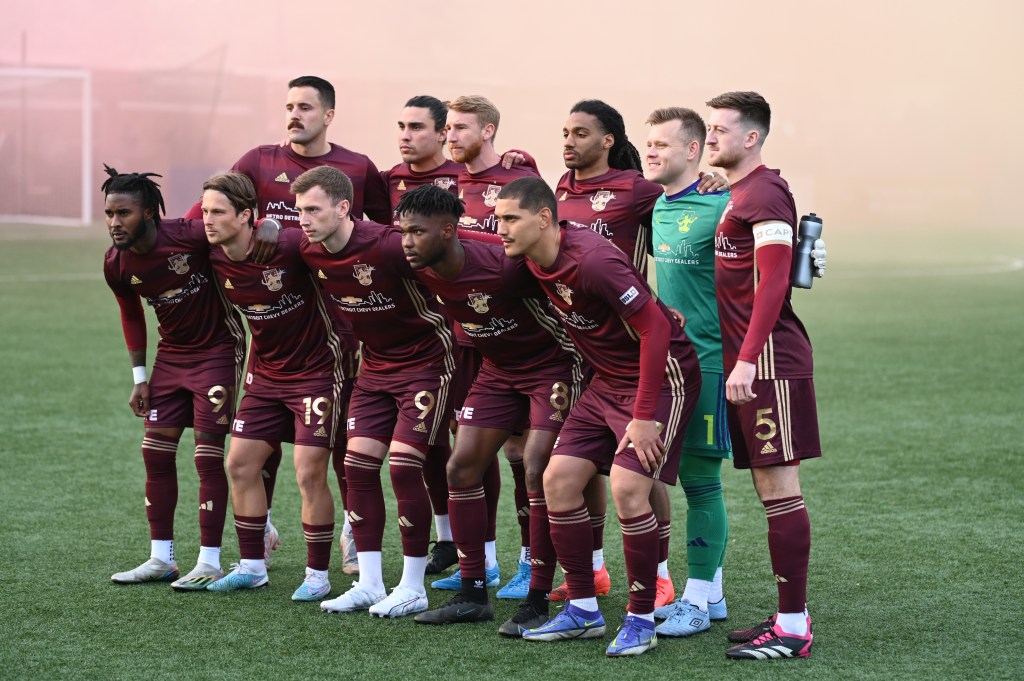 Stream (ESPN+) | DCFC Match Notes | 2023 DCFC Roster | USL Championship Notes
Detroit, Michigan — Detroit City FC is looking to kickstart themselves into gear on Saturday as they welcome the Tampa Bay Rowdies to Keyworth Stadium on Saturday afternoon with kickoff scheduled for 4:00 PM. The match will be streamed live on ESPN+ while being broadcasted locally on TV 20 in the Detroit area and FOX 47 in the Lansing Area. Tickets are still available here.
Le Rouge is coming off of a defeat in the US Open Cup to Minnesota United FC of Major League Soccer. Detroit City FC took the lead early against their opponents from the higher division through an incredible goal from outside of the penalty area, the rocket of a strike hit the far post, beating the Minnesota keeper and bouncing over the line. Le Rouge would go on to control the first 60 minutes of the match, creating more chances that just lacked a decisive, final touch.
All their work to control the first two-thirds of the match would be swiftly undone in just six minutes as Minnesota United FC would score three goals in a quick, backbreaking, six-minute blitz. The match would end 3-1 to Minnesota but Le Rouge played well and will hope to use that as a foundation for success this weekend against the Rowdies.
Detroit City FC and the Tampa Bay Rowdies are two sides who could really use a win in this early stage of the USL Championship season as they find themselves at the bottom of the Eastern Conference.
The Tampa Bay Rowdies come into Saturday's match off of a loss of their own against an MLS side in the US Open Cup, losing 1-0 to the Houston Dynamo at Al Lang Stadium. Prior to their cup tie, the Rowdies have lost two consecutive league matches, 1-0 to San Diego and 2-1 to the Eastern Conference leaders, Charleston Battery.
Tampa currently has the worst goal differential in the USL with a -5 as they have scored five but have conceded 10 goals. Similarly to Le Rouge, they just cannot find the back of the net. This is despite signing forward Cal Jennings in the offseason from Las Vegas Lights FC where he scored 11 goals and registered six assists in 25 matches last season. A talented player who will prove to be dangerous once fully adjusted to Neil Collins' system.
Last season Detroit City FC defeated the Tampa Bay Rowdies by a score of 1-0 thanks to a lovely bit of combination play by Maxi Rodriguez and Antoine Hoppenot. Le Rogue will hope for a similar result tomorrow afternoon.
For more information about Detroit City FC, visit detcityfc.com.com and follow @DetroitCityFC on Twitter and Facebook and @detroitcityfootballclub on Instagram.
##DCFC##
Please send all media inquiries to media@detcityfc.com.
Primary Media Contact: Jarrett Maki
(Sports Information Director, Jarrett.Maki@detcityfc.com)