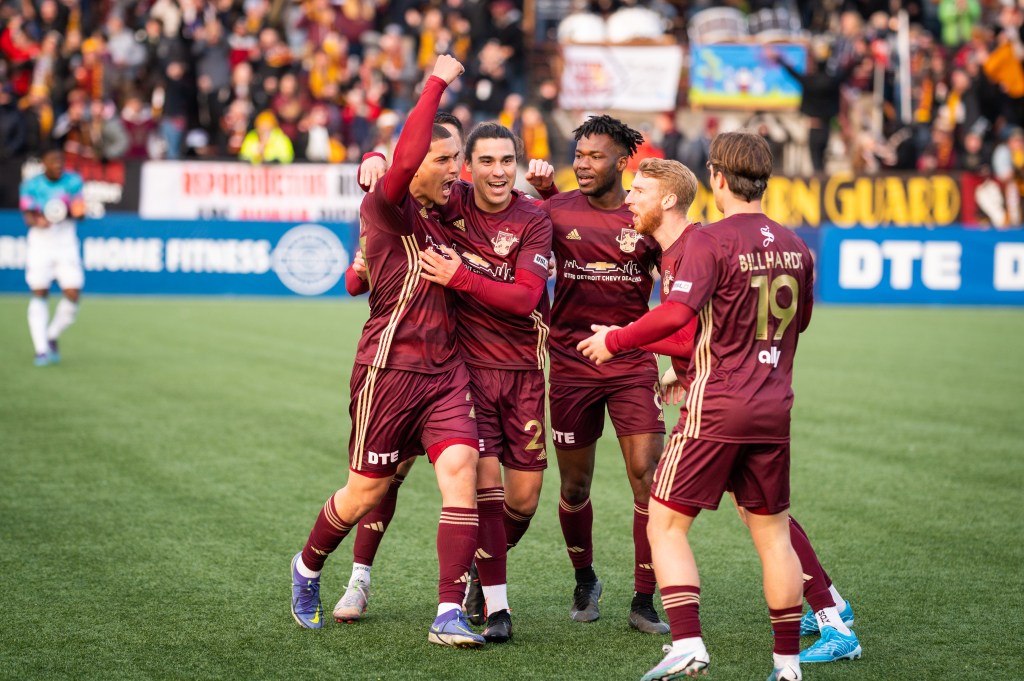 Detroit, Michigan – Despite controlling a large portion of the game and taking an early lead through a Yazeed Matthews wonder strike, Detroit City FC is out of the 2023 US Open Cup following a 3-1 defeat to Minnesota United FC of Major League Soccer.
It was a beautiful evening in Hamtramck, Michigan at Keyworth Stadium once the skies were clear and the sun made an appearance. The mood was right for another crack at magic in the US Open Cup for Detroit City FC who defeated the Columbus Crew of Major League Soccer in last year's Third Round.
Detroit City FC would find themselves ahead, early in the match following a lovely bit of combination play between Devon Amoo-Mensah, a center-back who found himself marauding forward into Minnesota's attacking third, and forward Yazeed Matthews. After laying the ball off to Amoo-Mensah, Matthews would slip between two of Minnesota's defenders and receive the ball back to feet. Matthews took an intelligent touch before having a go on goal, a strike that would cannon off the far post and back across and over the line, giving Le Rouge the lead in the fifth minute.
From there, Le Rouge would continue to take the match to their opponents. Seemingly the first to arrive at every 50/50 ball and looked composed when building play out of the back.
Le Rouge would have a chance to double their lead off of a good bit of build-up play between their two forwards which resulted in Ben Morris forcing a solid save out of the Minnesota United keeper.
Detroit City FC's Nate Steinwascher would be called to task a handful of times in the first half, seeing to it that his side was up heading into the halftime intermission.
Good times would quickly come to an end for Detroit City FC. Following an impressive flurry of saves from Nate Steinwascher, the visitors continued to push on in search of an equalizer. Soon, they would find one.
After leveling the match at 1-1 in the 60th minute the visitors kept their foot on the gas. Taking the lead just three minutes later in the 63rd before adding their third and final goal two minutes after that in minute 65.
From there, the visiting Minnesota United were able to sit back and defend their lead whereas Le Rouge was forced to come out of their shell and work hard to right the wrongs of those six minutes which would ultimately decide the outcome of the match.
Despite their best efforts, not many more chances would be created. The most notable was Ben Morris forcing a save out of the Minnesota United keeper who was off of his line.
Detroit City FC is out of the 2023 US Open Cup and will have to wait until 2024 before making another run and creating more Open Cup Magic.
Le Rouge next takes the pitch against the Tampa Bay Rowdies of the Eastern Conference on Saturday, April 29. The match is scheduled to kick off at 4:00 PM with streaming available on ESPN+. Tickets are available for Saturday's match at detcityfc.com/tickets
Scoring Summary:
DET – Matthews 5'
MIN – Fragapane 60'
MIN – Iwe 63'
MIN – Amarillo
For more information about Detroit City FC, visit detcityfc.com.com and follow @DetroitCityFC on Twitter and Facebook and @detroitcityfootballclub on Instagram.
##DCFC##
Please send all media inquiries to media@detcityfc.com.
Primary Media Contact: Jarrett Maki
(Sports Information Director, Jarrett.Maki@detcityfc.com)