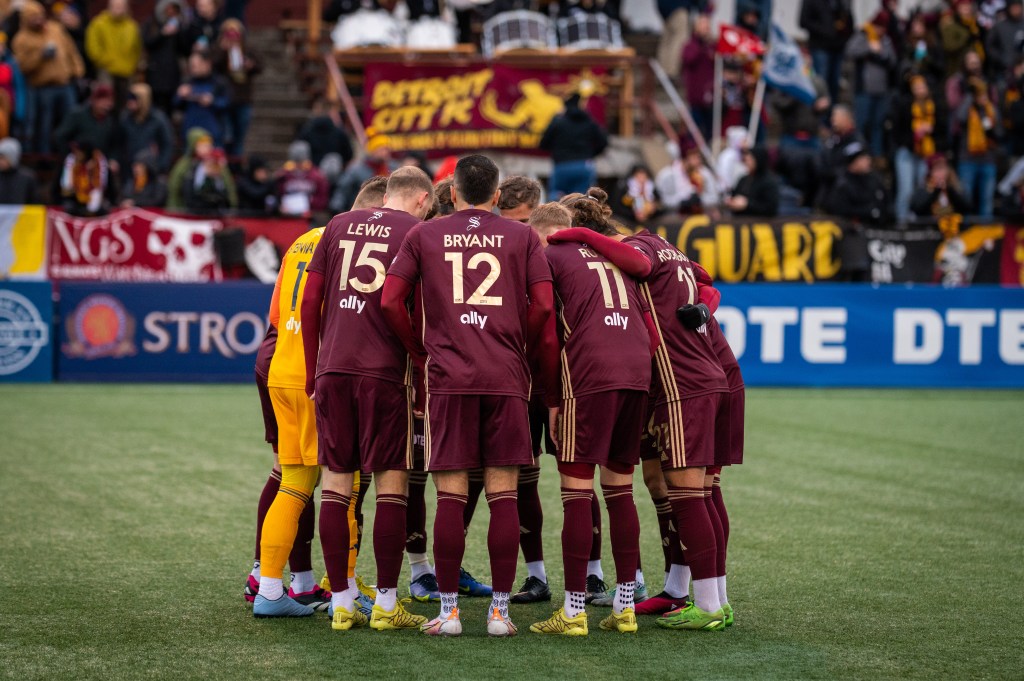 Stream (ESPN+) | DCFC Match Notes | 2023 DCFC Roster |Louisville City FC Match Notes |USL Championship Notes
Louisville, Kentucky – Following a three-match home stand that included a win in the Second Round of the US Open Cup, Detroit City FC is back on the road, traveling south to take on Louisville City FC on Saturday afternoon. Kickoff is scheduled for 3 PM and the match will be streamed on ESPN+ and broadcast in Detroit on TV20, check your local listings.
Detroit City FC are coming off of a gritty 1-0 win over Gold Star FC of the National Independent Soccer Association in the Second Round of the US Open Cup. Last night's Third Round draw saw Detroit City FC earn a home match with Minnesota United FC of Major League Soccer, more information to follow soon.
Prior to their Open Cup victory, Detroit City FC dropped two straight league matches at home to Indy Eleven and the Rio Grande Valley FC Toros, both results by a score of 1-0 in less-than-ideal conditions. Despite the scorelines, Detroit City FC played well and created decent opportunities for themselves to score.
Saturday's opponents, Louisville City FC, come into the match following two shock results in USL Championship play, losing two straight matches to Western Conference opponents. Louisville City FC was bested by El Paso Locomotive FC by a score of 3-0 on 3/25 and then struggled a week later against Sacramento Republic FC, losing 5-0 on 4/1. They did well to bounce back from these results, defeating their in-state rivals Lexington SC of USL League One by a score of 1-0 in the US Open Cup.
Louisville City FC defeated Detroit City FC twice last season and eliminated Le Rouge in the US Open Cup Round of 32 last season following a penalty-kick shootout at Keyworth Stadium. They also made it all the way to the USL Championship Playoff Final after being named the champions of the Eastern Conference but would lose 3-1 in the final to San Antonio FC of the Western Conference.
Detroit City FC's next home match in the USL Championship is scheduled for April 29 when the Tampa Bay Rowdies visit town, tickets for that match are available and can be purchased at detcityfc.com/tickets
Follow @DetroitCityFCM on Twitter for in-match updates. For more information about Detroit City FC, visit detcityfc.com and follow @DetroitCityFC on Twitter and Facebook and @detroitcityfootballclub on Instagram.
Please send all media inquiries to media@detcityfc.com.
Primary Media Contact: Jarrett Maki
(Sports Information Director, jarrett.maki@detcityfc.com)