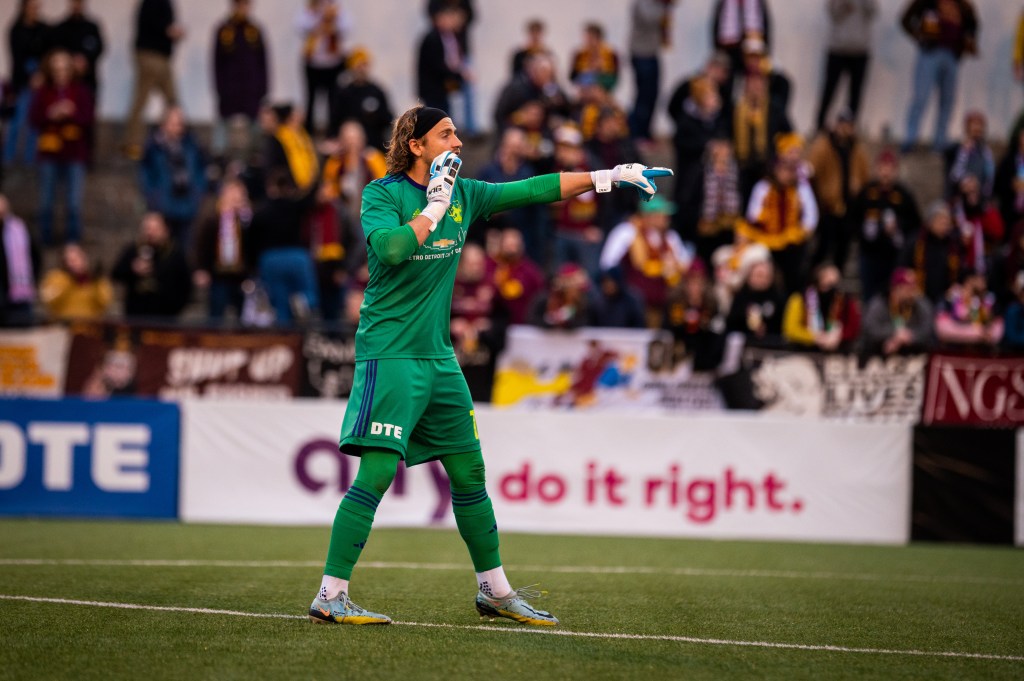 Detroit, Michigan – Detroit City FC is through to the next round of the US Open Cup after defeating Gold Star FC of the National Independent Soccer Association by a score of 1-0 on Tuesday evening at Keyworth Stadium thanks to a first-half header by Yazeed Matthews.
Le Rouge started the match with a somewhat rotated lineup, giving the first starts of the season to Vincenzo Candela, Adrian Billhardt, Ryan Shellow, and Oniel Fisher Jr who joined the club only last week. Despite this rotation, Le Rouge looked to enforce their will on this match early on.
The match got chippy in the first half with a few half-skirmishes, resulting in yellow cards for the visiting Gold Star FC who did an excellent job of containing Le Rouge in the attack in the early phases and even created chances for their own up the other end. Mostly through forward Joshua Gatt who was unable to cleanly connect on most of his chances while in dangerous areas.
Despite the chippy nature of the first half, Le Rouge kept battling in search of an opening goal. Then, in the 43rd minute, Adrian Billhardt looked up and played an excellent ball to forward Yazeed Matthews who let it take a bounce before getting a head on it to put it into the back of the net, 1-0 going into the half.
Detroit City FC would come out of the break with an easy task, hold onto the 1-0 lead and look for opportunities up the field. This resulted in a chance later on in the second half which saw a perfectly timed ball by forward Skage Simonsen find the foot of Ben Morris who just pulled his shot wide of the far post, a huge let-off for the visiting Gold Star FC.
Gold Star would create a few chances in the dying moments of the match but was unable to get anything dangerous on the frame, making the task easy for goalkeeper Ryan Shellow who earned his first clean sheet with Le Rouge in tonight's match. This is also their first clean sheet of the season.
Detroit City FC is through to the Third Round of the US Open Cup for the second straight season, the draw is set to commence on Thursday, April 6. Last year in the third round, Le Rouge defeated the Columbus Crew of the MLS by a score of 2-1 at Keyworth Stadium.
Scoring Summary:
DET- Matthews 43'
For more information about Detroit City FC, visit detcityfc.com.com and follow @DetroitCityFC on Twitter and Facebook and @detroitcityfootballclub on Instagram.
##DCFC##
Please send all media inquiries to media@detcityfc.com.
Primary Media Contact: Jarrett Maki
(Sports Information Director, Jarrett.Maki@detcityfc.com)