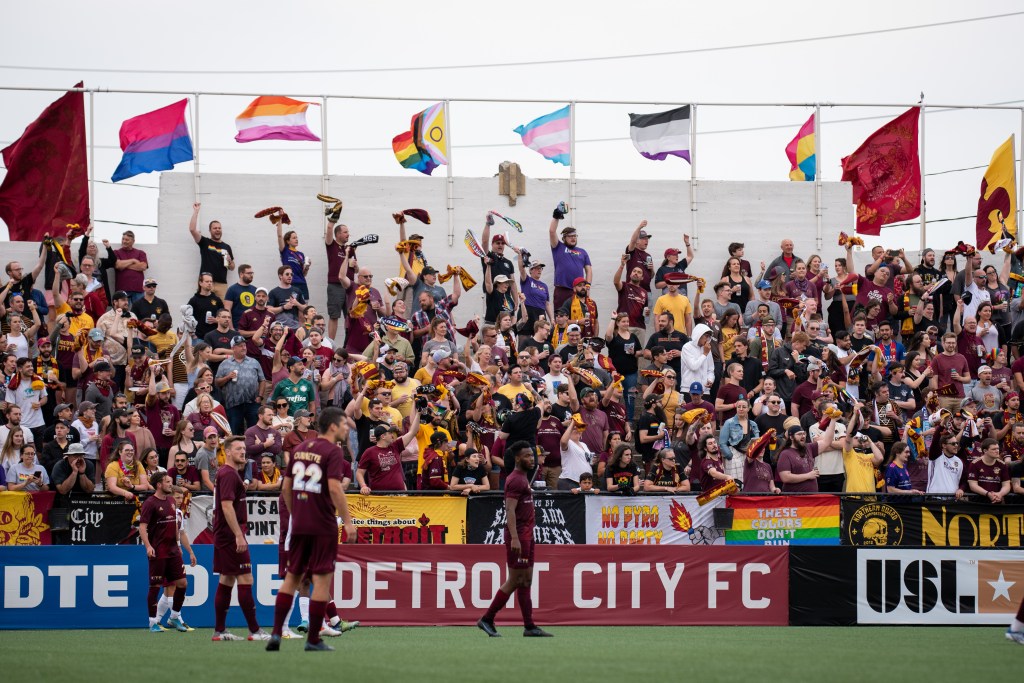 Detroit City FC is among trailblazing soccer clubs from NWSL, MLS, USL, and CPL to team up with Common Goal to fight discrimination and promote inclusion in preparation for the FIFA 2026 World Cup.
A three-person cohort representing Detroit City FC and its supporters will travel to Seattle in early April to take part in a groundbreaking initiative to fight discrimination and provide greater inclusion in soccer, and beyond.
At a critical time when LGBTQ+ rights are under attack in the United States, Common Goal, the global impact movement for soccer, is launching a 2023 coalition of clubs from Major League Soccer, the National Women's Soccer League, United Soccer League, and the Canadian Premier League. Common Goal is committed to implementing diversity, equity, and inclusion training in key soccer markets across the United States, Mexico, and Canada before the 2026 FIFA Men's World Cup.
The coalition is joining Common Goal's LGBTQ+ inclusion initiative, Play Proud, to fight against discrimination and promote greater inclusion in soccer and beyond. Common Goal's Play Proud offers a holistic and collective approach to creating inclusive soccer communities focusing on under-resourced and marginalized populations. As part of this year's Play Proud program, Common Goal has partnered with leading soccer clubs, supporter groups, and community-based organizations from across North America to host a series of workshops totaling 100 hours focused on promoting inclusion in soccer.
The three-person Detroit City FC cohort traveling to Seattle will include club co-founder Alex Wright, Chief of Partnerships T.J. Winfrey, and DCFC supporter Pamela Wall. Seattle Sounders FC will host the first 50-hour workshop, MLS' Inclusion and Impact Award recipient, in 2022, for four days starting on April 4th. Fellow MLS club Toronto FC will join Seattle Sounders FC and Common Goal, NWSL clubs Gotham FC and Kansas City Current, USL clubs Union Omaha, New Mexico United, and Detroit City FC, and Canadian Premier League club Vancouver FC. With pride activations across all eight stadiums in June, the coalition will come together for the final 50-hour workshop in October 2023.
Passion, inclusion, and support for the community are vital facets of Detroit City FC's club culture. DCFC was the first sports team in US history to wear a game jersey supporting LGBTQ+ equality; the club partners with the Black Star Initiative to promote soccer within the black community and is growing the City Youth program as a subsidized opportunity for young players to develop a passion for the game free of financial or transportation barriers.
"We aim to be the most consequential club in US soccer, and we are grateful to have a supporter base that shares our values and acts on them," said DCFC co-owner Alex Wright, "They founded and grew Prideraiser, which every June, raises hundreds of thousands of dollars for LGBTQ+ groups around the globe. Accomplishments like that inspire us, and TJ and I are excited to participate in the Play Proud program."
"Authentic club culture results from good faith discourse between teams and fans." said T.J. Winfrey, "We committed to the Play Proud program when we discovered a supporter representative would be invited to attend alongside front office and community organization leaders. We approach this opportunity committed to our values but also firm in the belief that there is much more we can do to make our matchday, platforms, and organization an increasingly more accurate reflection of our club pillars of integrity, equity, inclusion, and compassion."
Play Proud will provide participating clubs and organizations with training, resources, and support to help them create inclusive policies and practices within their organizations. In collaboration with Impact International, Inside Inclusion, Stonewall UK, and HTVB, the workshops will feature discussions and presentations from leading LGBTQ+ athletes and advocates and interactive sessions to promote inclusive leadership. Common Goal plans to work across every host city and key soccer market by the FIFA 2026 Men's World Cup to create safe and inclusive stadiums, enable access to soccer programming in under-represented communities, and upskill youth-based coaches in trauma-informed practices.
"I am beyond thrilled and honored to be representing all those who sing for City at the Play Proud cohort this year," says Pamela Wall. "Since the inception of the Northern Guard Supporters, the message has been clear: hate has no place in our culture; as DCFC's reach grows, and with it the supporter base, it becomes ever more important that we exemplify that message every matchday, and every day in between, both in word and in action. The Club can only do so much to invite new fans into the fold—we, the supporters, are also responsible for fostering an inclusive and welcoming community for all. I'm looking forward to returning from the training with real substantive tools we can use to do just that."
Lilli Barrett-O'Keefe, Executive Director of Common Goal USA and Founder of Play Proud, says: "All too often, DEI initiatives and solution-based approaches are disconnected and fragmented from the community's needs. Historically, professional clubs, fans, brands, and youth-centered programming work in isolation. We want to disrupt that pattern. All the key stakeholders across the soccer ecosystem must work together for authentic change to happen."
To discover more about opportunities to become part of Play Proud, or how to join other Common Goal collective projects around themes such as racial justice, gender equity, climate action, and mental health, visit common-goal.org.
About Common Goal:
Common Goal is a global impact movement that exists to unite the soccer community in tackling the biggest challenges of our times. The movement aims to inspire and mobilize every stakeholder of the soccer economy to play a meaningful role in serving the well-being of people and the planet. To do so, Common Goal provides a simple and impactful mechanism for professional soccer players, managers, officials, clubs, and other stakeholders, to pledge a minimum of 1% of their earnings to high-impact initiatives that use the game to drive progress toward the Global Goals. The movement's long-term ambition is to unlock 1% of the entire soccer industry's revenues—estimated at $54 billion per year —to establish an intrinsic link between soccer as a business and a tool for social change.