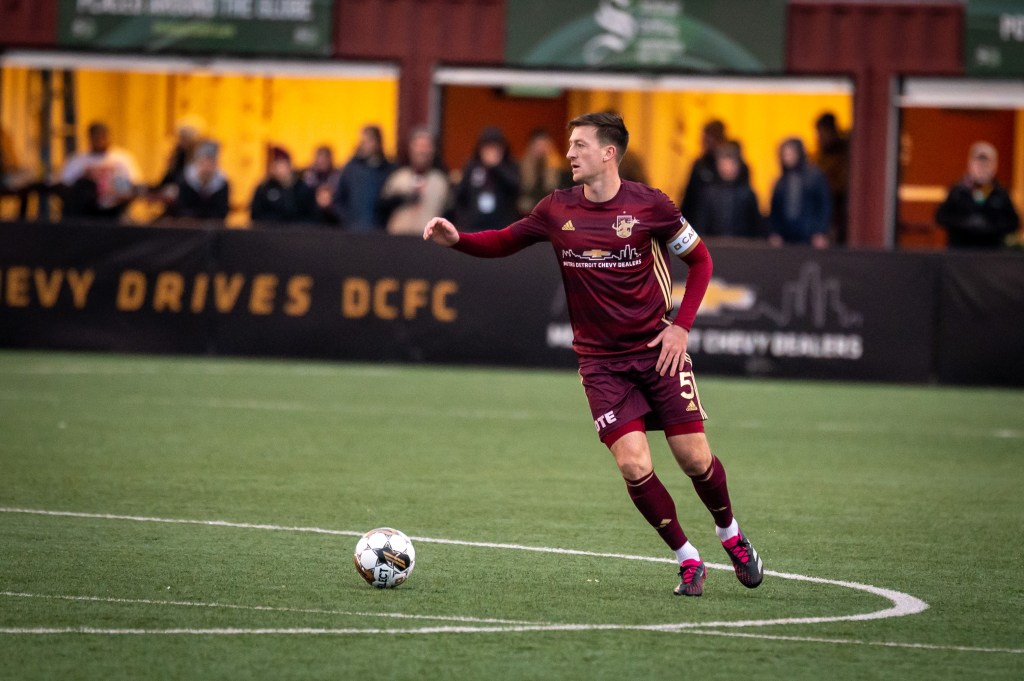 Detroit, Michigan – In a match that was delayed due to weather, a second-half rally from Detroit City FC (1-0-3) was not enough to find an equalizer against the visiting Rio Grande Valley FC (1-3-0), who are returning to southern Texas with all three points after they opened the scoring in the first half.
Following a tough loss last weekend to Indy Eleven, Le Rouge was coming into this one looking to return to a positive footing in this early phase of the season. Detroit City FC was met with good news at the start of the week with the return of Ben Morris as his visa issues, which kept him out of the first three matches of the season, finally cleared up. He was into the starting lineup immediately and played all 90 minutes.
It would be a tough start for Detroit City FC as RGV FC would do well early with their speed to break the press in the midfield and use this quickness to create chances and put Le Rouge on the back foot as they struggled to cope.
This strategy would lead to the only goal of the match when RGV FC would do well to spot a ball destined for #6 Tommy McCabe, force a turnover, and take advantage of their numerical advantage with the final touch put on it by Rio Grande's #8 Taylor Davila in the 23rd minute.
Detroit City FC responded well to going behind early as it was evident that their heads did not drop but they found it difficult to break down the back line of the Toros. Struggling to get anything going before the half.
Their offensive production would pick up early in the second half as they knew they needed an equalizer. Forward Skage Simonsen was involved in nearly every attacking bright spot for Detroit City FC, either on the creating end or the receiving end. Using his size and technique to find teammates in open spaces.
The final fifteen minutes of the match were the most dangerous for Le Rouge with a clever free-kick played in by McCabe evading everyone in the box but just lacked a crucial finishing touch. Just a few minutes later debutant Oniel Fisher Jr. would have the chance of the match for Le Rouge as he was played through on goal by Simonsen but the RGV FC keeper was off of his line quick enough to avoid conceding.
Detroit City FC will now shift their focus to Tuesday's US Open Cup Second Round matchup with Gold Star FC of the National Independent Soccer Association. Kickoff for that match is scheduled for 7:30 PM streaming on Bleacher Report on YouTube.
Scoring Summary:
RGV- Davila 23'
For more information about Detroit City FC, visit detcityfc.com.com and follow @DetroitCityFC on Twitter and Facebook and @detroitcityfootballclub on Instagram.
##DCFC##
Please send all media inquiries to media@detcityfc.com.
Primary Media Contact: Jarrett Maki
(Sports Information Director, Jarrett.Maki@detcityfc.com)