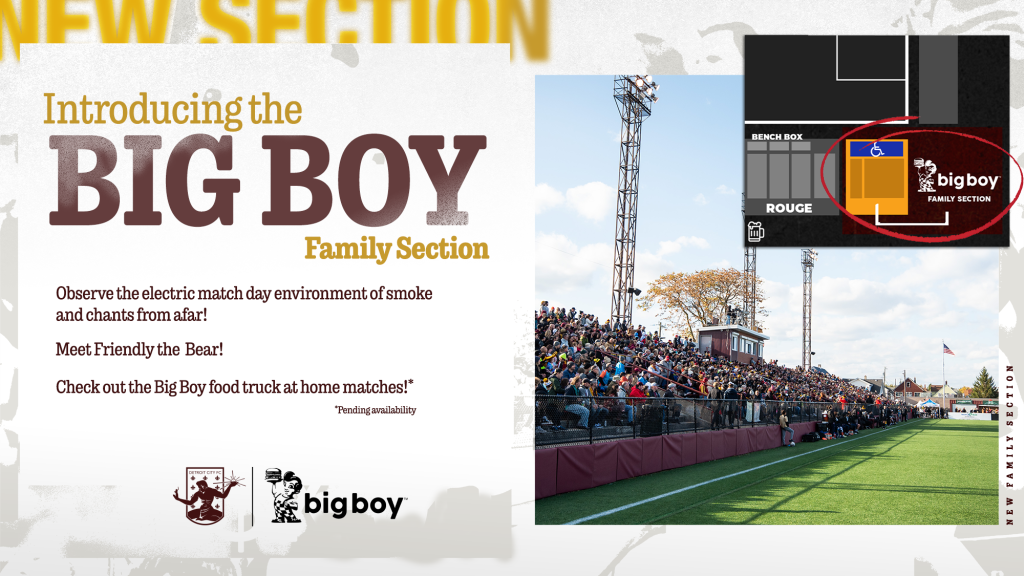 DETROIT – Detroit City FC and Big Boy Restaurants announced a partnership for 2023 today. The partnership will bring a new family section to all 2023 home games at Keyworth Stadium.
The Big Boy Family Section will be located in the south end of the west grandstand, giving families a view of Detroit City FC's electric matchday environment of smoke and drums from afar. Tickets include special perks like post-match meet and greets with Detroit City FC players and team mascot, Friendly the Bear!
"We're excited to be able to partner with Big Boy, which is a beloved institution on our community," said Sean Mann, DCFC CEO/Co-Owner. "Between the addition of their food truck and new ticket offerings for our fans, Big Boy will help us elevate what is already the most memorable sporting event in town."
The Big Boy himself will also make an appearance at Keyworth – the iconic statue will don a Detroit City FC jersey for in-stadium photo opportunities.
The Big Boy food truck will also appear at select Detroit City FC home games, giving fans a chance to enjoy their favorite Big Boy meals on matchday.
"We are extremely excited to be a partner with the DCFC. Our Brand is family-focused and to have the Big Boy Family Section at the matches continues to bring the community and family together," said Tamer Afr, Big Boy CEO. "Fans can also enjoy our delicious Big Boy food off of our brand new food truck and we continue to hold true to our core value of community involvement – we feel as if this is a win all the way around."
Tickets for the Big Boy Family Section can be purchased at detcityfc.com/tickets. Detroit City FC will also offer the Big Boy, Big Savings package, which will include food and drinks, later this season.
For more information about Detroit City FC, visit detcityfc.com and follow @DetroitCityFC on Twitter and Facebook and @detroitcityfootballclub on Instagram.