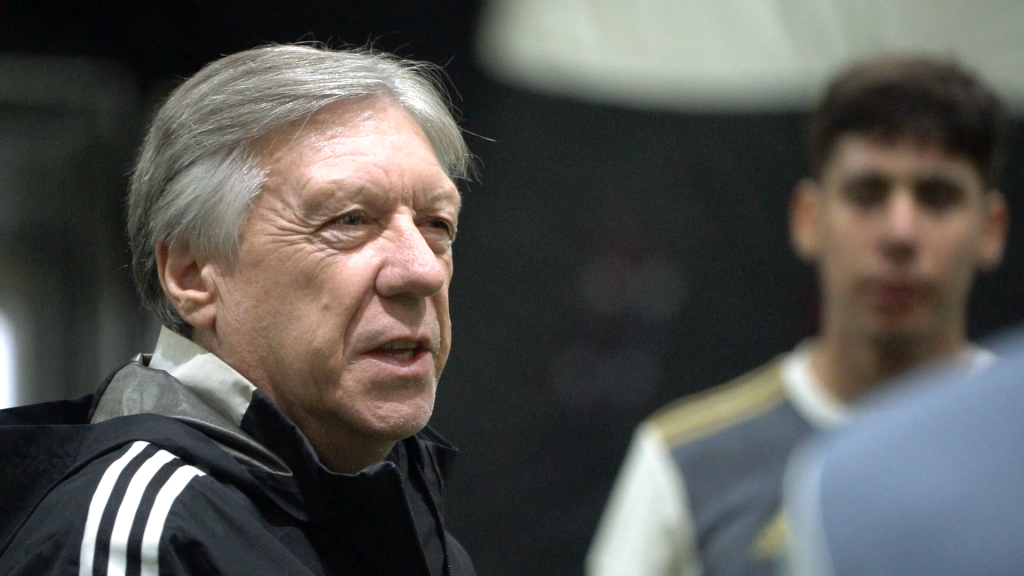 DETROIT, Michigan – Today Detroit City FC began their slate of preseason matches with an indoor-friendly against the Oakland University Golden Grizzlies who went 4-10-5 last season, eventually being knocked out in the semi-finals of the 2022 Horizon League tournament. 
With Le Rouge beginning their preseason one week ago, the goal today was to build chemistry amongst the squad as well as get minutes into the legs of guys as the group amps up their preparations for the USL Championship season opener on March 11 when the club travels to take on the San Diego Loyal of the Western Conference.
Early on in the match there was success at getting the ball into dangerous areas from wide positions, something that watchers of Le Rouge have become accustomed to over the years. This would culminate in a chance which saw the ball land at the feet of Matt Whelan (trialist) who was eventually brought down inside of the area, earning a penalty kick for Detroit City FC.
Stepping up to take the spot kick was 2021 Black Arrow MVP Connor Rutz, who placed the PK into the back of the net.
From there Le Rouge would continue working hard to build fitness and build out attacking opportunities. This would result in a clever bit of play which saw Cy Goddard and Connor Rutz link-up well which saw the ball then fall to forward Yazeed Matthews at the edge of the penalty area, Matthews would have a go and the shot found its way into the back of the net.
At the conclusion of the friendly, both teams agreed to take part in a penalty shootout to practice their spot kicks as well as testing out their goalkeepers in penalty-kick situations.
The following players appeared in today's match for Le Rouge: Nate Steinwascher (goalkeeper), Jalen Robinson (defender), Dominic Gasso (defender), Jimmy Filerman (defender, trialist), Will Perkins (defender, trialist), Connor Rutz (forward), Bosh Tanyi (forward, academy player), Benedek Tanyi (midfielder, academy player), James Vaughan (midfielder, trialist), Shawn-Claud Lawson (forward, trialist), Matt Whelan (forward, trialist), Matt Lewis (defender), Skage Simonsen (midfielder/forward), Ryan Shellow (goalkeeper, trialist), Adrian Billhardt (midfielder), Stephen Carroll (defender), Abdoulaye Diop (midfielder), Cy Goddard (midfielder), Michael Bryant (midfielder/defender), Yazeed Matthews (forward) and Maxi Rodriguez (midfielder).
Tomorrow, the first team and those on trial at the club, will be heading out to Tucson, Arizona to take part in the 2023 Desert Showcase. Detroit City FC's first match in Arizona will be against New Mexico United of the Western Conference on Sunday, February 12 at 11 AM local time.
The match against New Mexico United will not be streamed but stay tuned to our social media channels as we will try to provide match updates when applicable.
For more information about Detroit City FC, visit detcityfc.com and follow @DetroitCityFC on Twitter and Facebook and @detroitcityfootballclub on Instagram.
##DCFC##
Please send all media inquiries to media@detcityfc.com.
Primary Media Contact: Jarrett Maki (Sports Information Director, jarrett.maki@detcityfc.com)