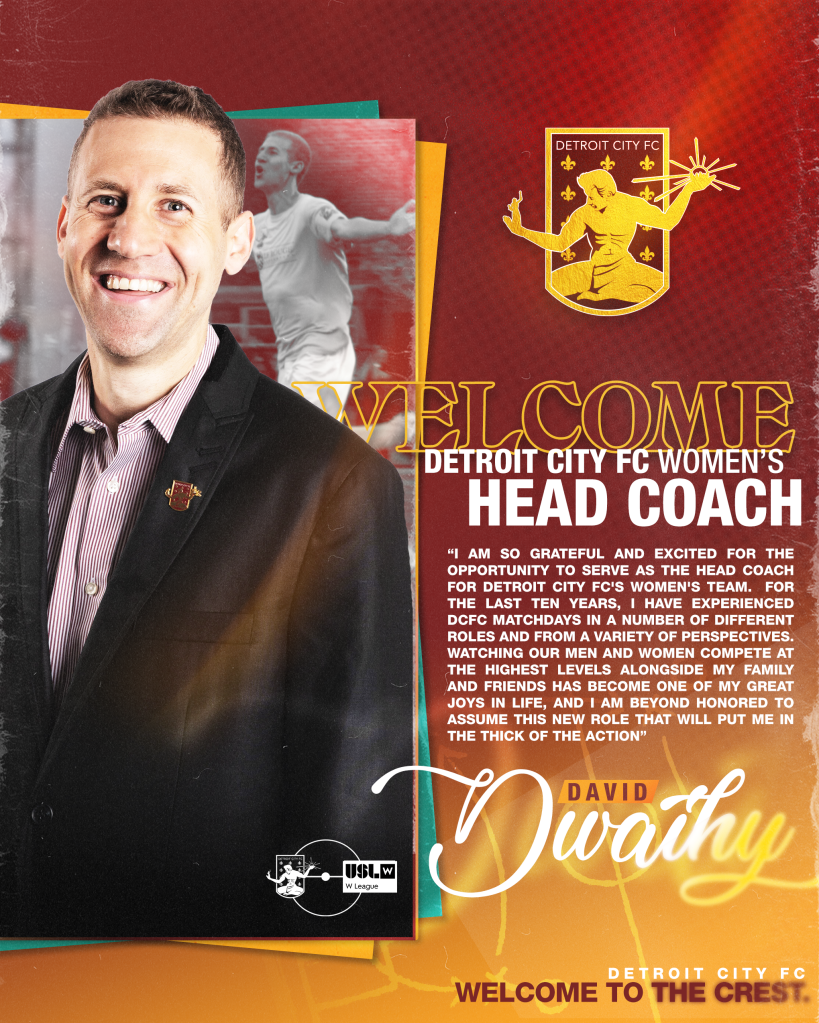 DETROIT, Michigan – Today the club announced the appointment of Detroit City FC co-owner David Dwiahy as the new head coach of the club's USL W League side. Dwaihy becomes the second head coach in the history of the Detroit City FC Women's team following Sam Piraine.
Dwaihy, one of the five original founders of Detroit City FC, has been instrumental in growing the club since its inception in 2012. There is no better example of this than all of the different hats that he has worn in his time with the club. While being a co-owner, he also appeared in competitive matches for the club in each of the first six years of its existence, 2012-2017, picking up several Man of the Match awards along the way.
Aside from playing Dwaihy has also represented the club on matchday broadcasts, sharing his vast knowledge of the game for all of those watching at home and always being a great representative for the club and the city of Detroit.

"I am so grateful and excited for the opportunity to serve as the head coach for Detroit City FC's women's team. For the last ten years, I have experienced DCFC match days in a number of different roles and from a variety of perspectives. Watching our men and women compete at the highest levels alongside my family and friends has become one of my great joys in life, and I am beyond honored to assume this new role that will put me in the thick of the action," said Dwaihy.
He also went on to thank the front office for placing this trust in him to lead the team in their second campaign in the USL W League and gives a sneak peek at what the 2023 roster could look like.
"I'd like to take this opportunity to thank the front office for their partnership and support, and for putting their trust in me with this amazing opportunity. I'd also like to express my immeasurable appreciation for Sam Piraine, who sacrificed untold time, energy, and expertise as he assembled and guided the team that we celebrate today. I am hopeful we will see a number of familiar faces on the field this summer, and that we can continue to provide a platform for the abundance of talented players in this area and beyond," said Dwaihy.
"We're very excited for David to lead the women's team into a new era and we as a front office have no doubts that he will represent the club in the same great way he has been since 2012," said Alex Wright, Detroit City FC co-owner and founder.
When away from Detroit City FC, Dwaihy keeps involved in the game, he's been coaching boys and girls teams at University Liggett School since the fall of 2002 where he took over the head coaching position for the girls team in 2009 and the boys in 2016. Dwaihy is also a math teacher at University Liggett School.
He also spent one year working under Aaron Byrd as a trainer for Next Level Training and a year as a head coach for a youth select team in Grosse Pointe, just outside of Detroit. He's been involved in coaching soccer camps for over 20 years and has served as the director of the Liggett Soccer Camp since 2012.
Further information about Dwaihy's coaching staff for the upcoming USL W League campaign will be announced in the coming weeks.
For more information about Detroit City FC, visit detcityfc.com and follow @DetroitCityFC on Twitter and Facebook and @detroitcityfootballclub on Instagram.
##DCFC##
Please send all media inquiries to media@detcityfc.com.
Primary Media Contact: Jarrett Maki (Sports Information Director, jarrett.maki@detcityfc.com)