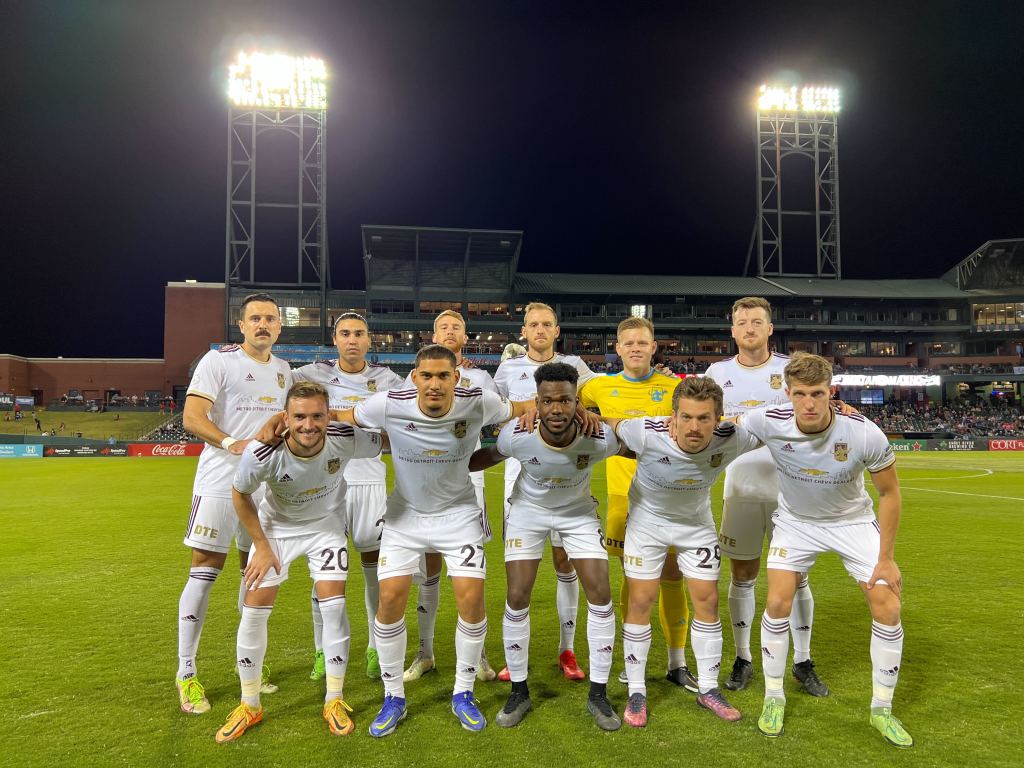 MEMPHIS, TENNESSEE – In their first postseason appearance in the USL Championship Playoffs presented by Hisense, Detroit City Football Club had their season come to an abrupt end with a 3-1 loss to Memphis 901 FC at AutoZone Park.
After 45 minutes of play, neither team was able to get on the scoreboard. Goalkeeper Nate Steinwascher kept DCFC in the game when midfielder Jeremy Kelly made long a long range shot and Steinwascher made an incredible kick save that was perfectly timed to keep Memphis off the scoreboard.
The first half ended with Memphis controlling 59.1% of the possession and Detroit was outshot 8 to 5, including 4 to 1 for shots on target. 
Coming out of the halftime break, Le Rouge established themselves as the better side in this match, doing well to push their fullbacks forward and get them involved in the attacking side of play further up the field.
It took until the 72′ minute when finally someone was able to break the deadlock between the two sides. On a fast break, midfielder Chris Allen took a right footed shot inside the box on the right side to the bottom left corner of the net. The goal was assisted by forward Philip Goodrum.
Just five minutes later in the 77th minute, Detroit leveled it at 1-1 on a goal by forward Yazeed Matthews. Defender Deklan Wynne sent a cross that was deflected and found Matthews who was able to toe poke the ball into the back of the net.
Memphis kept coming and took the lead once again from a set piece, when midfielder Aaron Molloy passed to midfielder Jeremy Kelly who sent the ball in and found defender Graham Smith's head and was able to beat a diving Steinwascher at the 88' minute.
The final nail in the coffin came at 90+4′ when Memphis took a 3-1 lead. Goodrum was able to do a chip shot up and over Steinwascher, who had pressed up, to put the ball into the empty net.
For more information about Detroit City FC, visit detcityfc.com.com and follow @DetroitCityFC on Twitter and Facebook and @detroitcityfootballclub on Instagram.
Goal Summary:
MEM –Chris Allan (Phillip Goodrum) – 72′
DET – Yazeed Matthews (Deklan Wynne) – 77′
MEM – Graham Smith (Jeremy Kelly) – 88′
MEM – Phillip Goodrum (Derek Dodson) – 90+4′
##DCFC##
Please send all media inquiries to media@detcityfc.com.
Primary Media Contact: Alex Wright (Co-Owner | Chief Creative Officer, alex.wright@detcityfc.com)