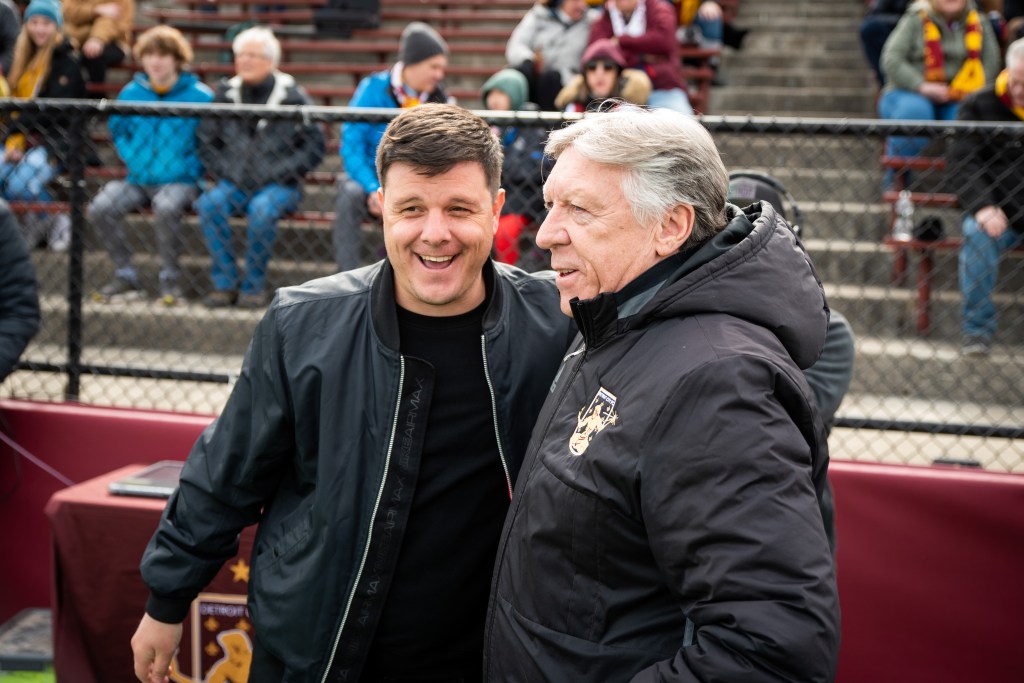 DCFC Match Notes | 2022 DCFC Roster | Memphis 901 FC Match Notes
DETROIT, Michigan – Making their first appearance ever in the USL Championship Playoffs Presented by Hisense, Le Rouge (7th seed) will be away this Saturday in Memphis, Tennessee for the first round against the Memphis 901 FC (2nd seed). The game will be played at 8:00pm at AutoZone Park and it will be streamed on ESPN+.
This Saturday will be their third meeting of the season. Early in the season, in game one on April 2nd, the teams drew 1-1, with forward Pato Botello Faz scoring for City and forward Phillip Goodrum scoring for Memphis. More recently, the teams played on June 25th, with DCFC suffering a 2-0 loss. The Memphis goal scorers were defender Graham Smith at 37' and forward Phillip Goodrum at 89'.
This past weekend, DCFC lost to The Miami FC 1-0. The only goal scored was during first half stoppage time. Miami was able to capitalize on a DCFC error that resulted in a 3 v 1. Forward Richard Ballard fed the ball ahead to forward Joaquin Rivas, who was left untouched and was able to get a clean shot past goalkeeper Nate Steinwascher.
Forward Antoine Hoppenot topped the league assist rankings in 1st place with his 11 assists over the season. With his 75 chances created, he also finished 3rd in the league. He scored seven goals during the season that sits him in third place on the team.
Goalkeeper Nate Steinwascher finished the season with 88 saves, good for 4th in the league and he was tied for 3rd with 12 clean sheets. He played in 33 out of the 34 games for City this season and his save percentage was 75.2%, which has him 3rd in the league. Steinwascher was named the Black Arrow MVP this year for his performance throughout the season.
At the end of the regular season, the Memphis 901 FC finished in 2nd place in the Eastern Conference with 68 points and a record of 21-5-8. In their last five games, Memphis 901 FC are 3-1-1. Their wins came against Louisville City FC (2-1), New York Red Bulls II (2-1), and FC Tulsa (3-0). They drew against Rio Grande Valley FC (2-2) and they lost to The Miami FC (1-0).
In the final USL Championship League Leaders standings, forward Phillip Goodrum with his 21 goals, ended in 2nd place overall. He also ended the season with 81 shots, placing him in 3rd overall. In his 32 games played, he started all games and also led his team with 48 shots on target, 426 duels and 145 aerial duels. Goodrum was named to Team of the Week three times this season (Weeks 11, 27, 28) and Player of the Week twice (Weeks 11, 27).
Midfielder Aaron Molloy played in 33 games this season and had a passing accuracy of 85.2%. With his 8 goals this season, Molloy ended up in a tie for 39th place this season and his 194 crosses has him in 3rd. His 10 assists through league play, has him in 2nd place tie, right behind DCFC forward Antoine Hoppenot. He also has 49 shots this season, good for a tie for 28th place and his 72 chances has him sitting alone in 5th place. Molloy leads his team this season with 1,699 passes, 98 tackles, 57 tackles won and 205 duels won. He was named to the Team of the Week six times this season including Weeks 6, 10, 22, 24 and 32.
Defender Graham Smith has played in 32 games this season and was only subbed off 3 times. His 134 clearances, 23 blocks and 79 aerial duels won are team leading numbers. He has a passing accuracy of 79% and ended the season with four goals. Twice this season Smith was named to the Team of the Week for Weeks 16 and 29.
With a win over Memphis this weekend, City would move on to the second round of playoffs and would play away against the 1st seed, Louisville City FC.
Follow @DetroitCityFCM on Twitter for in-match updates. For more information about Detroit City FC, visit detcityfc.com and follow @DetroitCityFC on Twitter and Facebook and @detroitcityfootballclub on Instagram.
Please send all media inquiries to media@detcityfc.com.
Primary Media Contact: Alex Wright (Co-Owner | Chief Creative Officer, alex.wright@detcityfc.com)