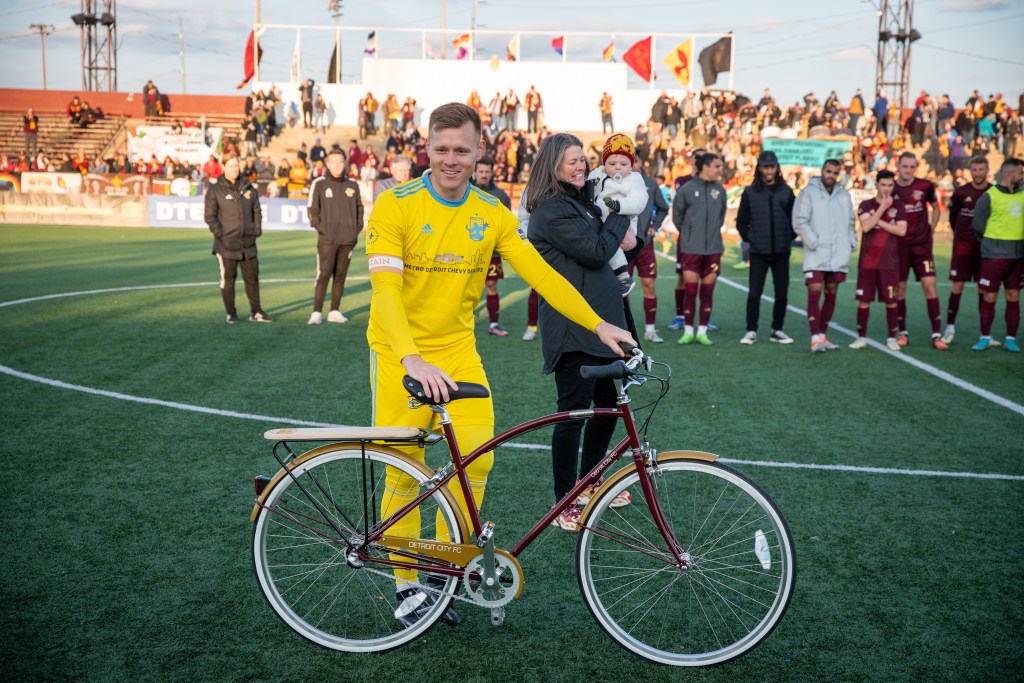 DETROIT, Michigan – Following the conclusion of Detroit City FC's regular season on Saturday afternoon, goalkeeper Nate Steinwascher was named as the 2022 Black Arrow MVP award winner for his performance across the 2022 USL Championship season.
The name of the trophy is taken from the nickname of Gil Heron, a Jamaican soccer star who lived and played soccer in Detroit and went on to become the first black player ever for Celtic FC in 1951.
The winner of the yearly award also receives a custom Detroit City FC bike from Detroit Bikes.
This season for Detroit City FC Steinwascher started in 33 of the 34 league matches and made 88 saves for Le Rouge, good enough for the fourth most in all of the USL Championship. Steinwacher also finished the regular season tied for third in clean sheets, helping his team to 12 throughout the course of the regular season.
Steinwascher came home in third place for save percentage among goalkeepers in the USL Championship with a save percentage of 75.2%.
He was also named to the USL Championship Team of the Week in Week 1 for his penalty kick save on the road against San Antonio FC in Detroit City FC's inaugural match in the USL Championship. He was an honorable mention for the Team of the Week for weeks 6 and 18.
Steinwascher picked up seven Save of the Week nominations this season (Weeks 1,2,3,6,16,20,22) and won Save of the Month for the month of March. Steinwascher was also named as the USL Championship Mid-Season Goalkeeper of the Year.
In Detroit City FC's professional era (2020-present), Steinwascher sits third in minutes (5,823) and is tied for second in starts (65).
Previous winners of the Black Arrow MVP award include Keith Lough (2012), Josh Rogers (2012), Zach Myers (2013), Cyrus Saydee (2014), Dave Edwardson (2015), Tommy Catalano (2016), Tyrone Mondi (2017), Stephen Carroll (2018), Shawn-Claud Lawson (2019), Tendai Jirira (2020), Sydney Blomquist (2020), Connor Rutz (2021), Madison Duncan (2021) and Shannon McCarthy (2022).
Le Rouge will next take the pitch in Round One of the USL Championship Playoffs Presented by Hisense on the road to Memphis 901 FC. This match will take place on Saturday, October 22 and kick off is scheduled for 8PM.
##DCFC##
Please send all media inquiries to media@detcityfc.com.
Primary Media Contact: Alex Wright (Co-Owner | Chief Creative Officer, alex.wright@detcityfc.com)