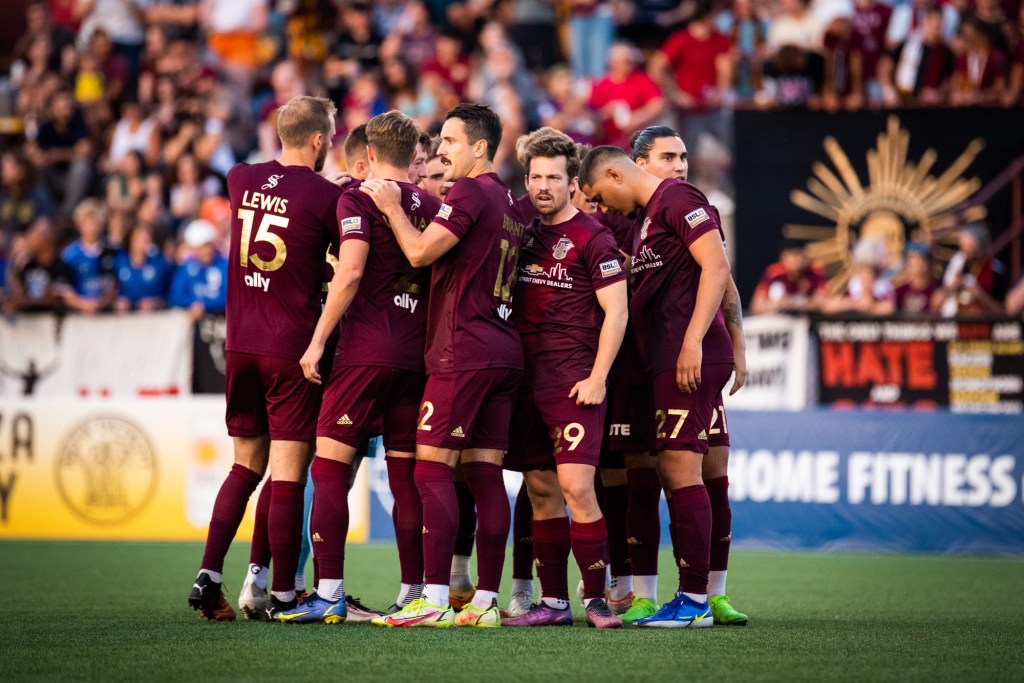 Stream (ESPN+) | DCFC Match Notes | 2022 DCFC Roster |DCFC Digital Program | FC Tulsa Notes | Tickets
DETROIT, Michigan – After a frustrating mid-week matchup, Detroit City FC will be back at home to take on FC Tulsa of the Eastern Conference this Saturday at Keyworth Stadium at 7:30pm and it will be streamed on TV20 and ESPN+.
This will be DCFC and FC Tulsa's second meeting this year, previously playing in Tulsa on May 7th, where Tulsa won 3-1. The goal scorer for Detroit was defender Michael Bryant and for FC Tulsa, forward Joaquín Rivas scored twice and midfielder Rodrigo da Costa once.
This past Wednesday, Le Rouge played New York Red Bulls II away at MSU Soccer Park at Pittser Field, that ended as a 0-0 draw. The best chance for City was in the 39' minute when defender Rhys Williams crossed the ball to forward Conner Rutz, whose header found the foot of midfielder Brad Dunwell. Dunwell was wide open and took a shot, but it was blocked by New York forward O'Vonte Mullings. City had seven corners throughout the entire game but was unable to capitalize on any of the set pieces.
Detroit now has a 13-11-6 record, which has them currently sitting in 6th place in the USL Championship Eastern Conference, just 13 points off 1st place Louisville City. They are just two points off of the 5th place Pittsburgh Riverhounds.
Defender Richard Foster made his 1st start for Detroit City FC last time out against the New York Red Bulls II and has had three appearances for the team. He was announced as a player-coach signing on August 15th.
FC Tulsa sits in 8th place in the Eastern Conference, out of playoff contention, with 35 points and a record of 10-5-15. In their past 5 games, FC Tulsa has a 1-1-3 record. Their lone win came against FC Loudoun United FC (2-1) and their only draw was against Louisville City FC (2-2). Their 3 losses were against the Hartford Athletic (2-1), Atlanta United 2 (2-1), and Hartford Athletic (3-2).
Midfielder Rodrigo da Costa with his nine goals and is currently tied for 24th place in the league standings, while his 45 shots are good for 22nd place. He is alone in 12th place with 51 chances created. His passing accuracy is 76.9%.
Forward Darío Suárez sits in 27th place with 42 shots this season and his seven goals has him tied for 36th place. He also has 18 shots on target and three assists. Suárez has a passing accuracy of 73.9%.
In 28 games played defender Adrián Diz Pe leads his team with 121 clearances, 51 interceptions, 65 tackles, 43 tackles won, 300 duels and 192 duels won. His passing accuracy this season is at 77.6%.
Le Rouge will be on the road next Saturday October 1st playing at Segra Field in Leesburg, Virginia, where they will take on Loudoun United at 6:30pm. The game will be streamed on ESPN+.
Follow @DetroitCityFCM on Twitter for in-match updates. For more information about Detroit City FC, visit detcityfc.com and follow @DetroitCityFC on Twitter and Facebook and @detroitcityfootballclub on Instagram.
Please send all media inquiries to media@detcityfc.com.
Primary Media Contact: Alex Wright (Co-Owner | Chief Creative Officer, alex.wright@detcityfc.com)