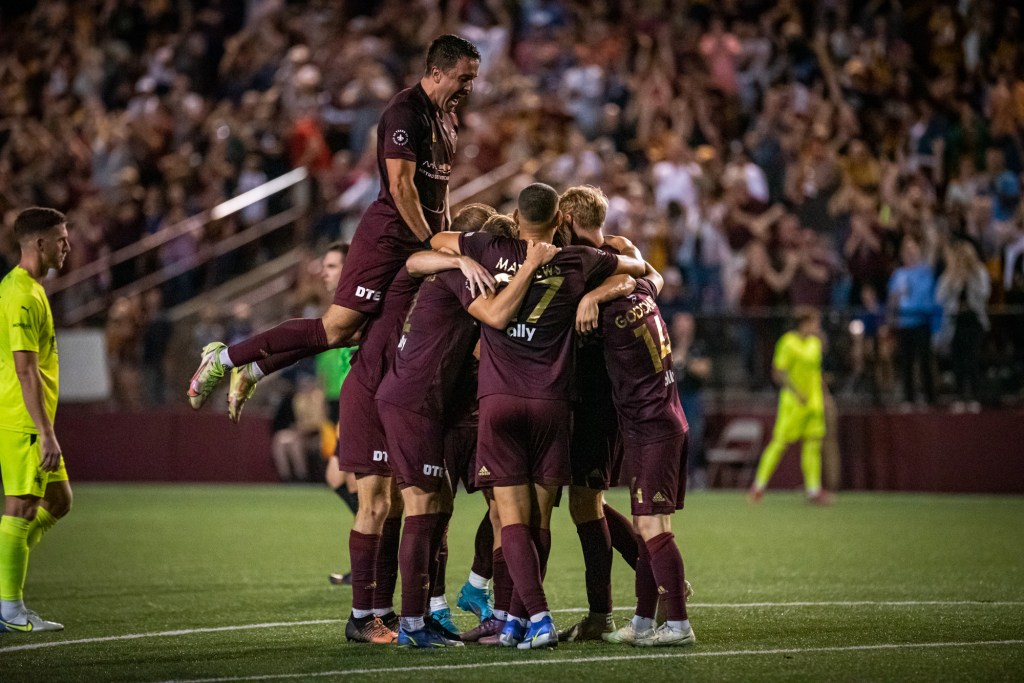 It was Detroit City FC's first win at home since May 21
HAMTRAMCK, Michigan – It was a rowdy night in Hamtramck, where Detroit City Football Club (13-10-6) fought hard to take all three points from the Tampa Bay Rowdies (16-6-7) at Keyworth Stadium on Saturday night. With this win, DCFC moves into 6th place in the Eastern Conference of the USL Championship.
It took until the 81' minute for Detroit to finally take the lead. Midfielder Maxi Rodriguez was able to execute the perfect play on the run when he was able to beat several Rowdies players and move the ball forward to a running forward Antoine Hoppenot. Hoppenot was able to finish at close range with his left foot, shooting the ball into the net past Rowdies goalkeeper CJ Cochran.
After the first 45 minutes of play, both teams were unable to connect for a goal. The game was fast paced with play running from end to end. The best chance for City came early in the game at 14' when Hoppenot, from a set piece, was able to get the ball across to Rodriguez in front of the net. He headed the ball to defender Matt Lewis, who got the ball across the line, but the play was offside.
Tonight's game was the first time since July 23rd that DCFC had a lead at home and the first time Le Rouge took home all three points at Keyworth since May 21.
Detroit's goal was Hoppenot's 6th on the season and it was Rodriguez's 3rd assist this year.
The game ended with Tampa controlling 61.5% of the possession and making 196 more passes than DCFC. City was able to hold the Rowdies to zero shots on target, while Detroit was only able to get one shot on target, that's all it takes.
This coming Wednesday, Le Rouge will travel away to play the New York Red Bulls II at MSU Soccer Park at Pittser Field in Montclair, New Jersey, at 7:00pm. Streaming will be available on ESPN+.
For more information about Detroit City FC, visit detcityfc.com.com and follow @DetroitCityFC on Twitter and Facebook and @detroitcityfootballclub on Instagram.
Goal Summary:
DET – Antoine Hoppenot (Maxi Rodriguez) – 81'
##DCFC##
Please send all media inquiries to media@detcityfc.com.
Primary Media Contact: Alex Wright (Co-Owner | Chief Creative Officer, alex.wright@detcityfc.com)