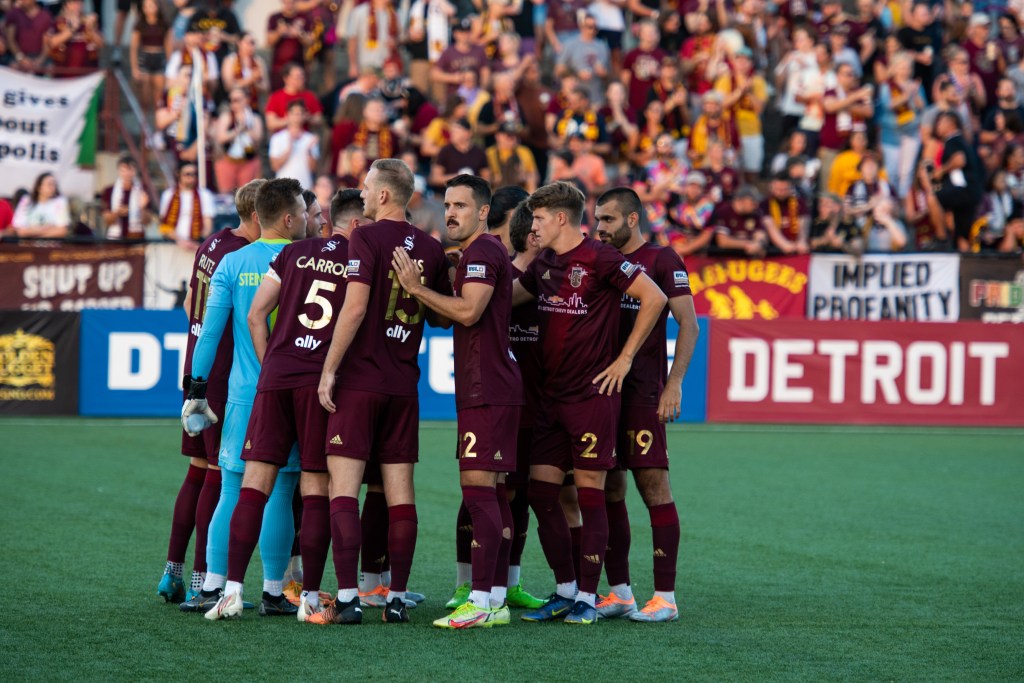 Stream (ESPN+) | DCFC Match Notes | 2022 DCFC Roster | Tampa Bay Rowdies Notes | USL Championship Notes | Tickets
DETROIT, Michigan – Detroit City FC will be back at home this weekend, facing the Tampa Bay Rowdies of the Eastern Conference, who sit in 3rd place. The game is scheduled for Saturday September 17th at 7:30pm and it will be streamed on TV20 Detroit, WSYM FOX 47 Lansing and ESPN+. 
This will be the second meeting this season between these two clubs, with their first meeting in Tampa on August 6th where Detroit suffered a 1-0 loss. The lone goal was scored in the second half by Tampa forward Steevan Dos Santos.
This past Saturday, Le Rouge played the Colorado Springs Switchbacks FC away at Weidner Field, earning an important 2-1 win and three points. The first goal came off a corner kick that forward Antoine Hoppenot took, where he sent a ball to the front of the net when defender Matt Lewis' header flicked the ball to the back post. Midfielder Maxi Rodriguez immediately connected with a header putting the ball in the back of the net at the 42nd minute. In the 59th minute, defender Deklan Wynne buried a shot back of the net from a perfect cross from forward Antoine Hoppenot. The Switchbacks finally scored in stoppage time, on a goal from forward Aaron Wheeler.
Detroit now has a 12-10-6 record, which has them currently sitting in 7th place in the USL Championship Eastern Conference, just 14 points off 1st place Louisville City. They are just one point off 6th place, behind Miami FC with a game in hand.
During the Colorado Springs Switchbacks game, goalkeeper Ryan Shellow made his pro debut. He made many key saves in the game to keep Colorado Springs off the board and he was nominated for Save of the Week. Midfielder Cy Goddard also made his debut for DCFC in this game.
Defender Deklan Wynne scored his third goal of the season, which was the game winner in the Colorado Springs game. His six assists this season has him right behind forward Antoine Hoppenot, who has nine assists in USL Championship play. This week, Wynne was selected for the 24-man roster for the New Zealand National Team, who are taking on Australia in two friendlies during the next FIFA International Window. He made his debut for the New Zealand team in November 2014, and this is his first time getting called up since 2018.
The Tampa Bay Rowdies sit in 3rd place in the Eastern Conference with 54 points and have a record of 16-6-6. The Rowdies are 2-0-3 in their last five matches with losses to Eastern Conference leaders, Louisville City FC (1-0), Colorado Springs Switchbacks FC (1-0), and Charleston Battery (2-1). Their two wins came against Orange County SC (3-1), and Las Vegas Lights FC (6-1).
Midfielder Leo Fernandes is on the league leaderboard where he is tied for 4th with 15 goals, tied for 11th with seven assists, tied for 18th with 51 shots and stands alone in 13th place with 49 chances created. He has been named to the Team of the Week four times this season including Weeks 16, 20, 25 and 26.
Forward Jake LaCava is currently tied for 13th place in the league with 11 goals and is tied for 23rd place with 42 shots. He has created 23 chances and has a passing accuracy of 72.7%. LaCava has been named to the Team of the Week once this season for Week 17.
Next Wednesday September 21st Detroit City FC will be taking the field at MSU Soccer Park at Pittser Field in Montclair, New Jersey, Le Rouge will be facing off against the New York Red Bulls II at 7:00pm.
Follow @DetroitCityFCM on Twitter for in-match updates. For more information about Detroit City FC, visit detcityfc.com and follow @DetroitCityFC on Twitter and Facebook and @detroitcityfootballclub on Instagram.
Please send all media inquiries to media@detcityfc.com.
Primary Media Contact: Alex Wright (Co-Owner | Chief Creative Officer, alex.wright@detcityfc.com)