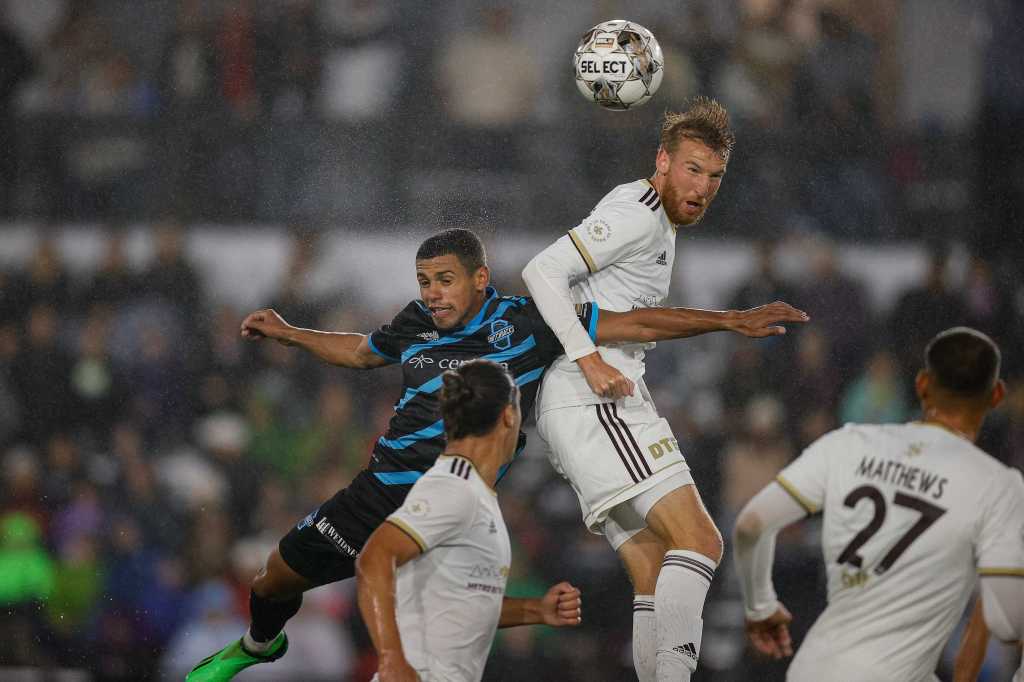 Tonight was Detroit City FC's third straight win on the road
COLORADO SPRINGS, Colorado – In his professional debut, Detroit City FC goalkeeper Ryan Shellow earned his first win and led Detroit City Football Club (12-10-6) over the Colorado Springs Switchbacks FC (16-3-10) with a 2-1 win at Weidner Field on a Saturday night.
In a first half with few chances it was Le Rouge who took advantage of a set piece. From a corner kick, forward Antoine Hoppenot crossed the ball to defender Matt Lewis who was at the near post. Lewis headed the ball across goal to midfielder Maxi Rodriguez who cleanly headed the ball in the back of the net to take the lead in the 42nd minute.
This was the first goal that Colorado Springs has given up since August 18th when they lost 3-0 to Sacramento Republic.
City only had 31.5% of the possession at the end of 45 minutes of play but was able to take the lead to the dressing room at half time.
Detroit didn't let up the pressure into the second half, when Hoppenot made the perfect cross to a running defender Deklan Wynne who buried the ball for City's second goal of the game at 59'. It was Wynne's third goal of the season and ended up being the game winner.
The Switchbacks were able to come within a goal, late in the game at 90+2' on a goal headed from forward Aaron Wheeler who was finally able to get the ball past debutant Ryan Shellow.
Shellow in his pro debut got stronger as the game played on and made key saves when Detroit needed him.
DCFC ended the game with just 31% possession, seven crosses to the Switchbacks' 29, six shots total compared to the Switchbacks' 19 but it was Le Rouge who claimed all three points on the road.
A week from tonight, Le Rouge will travel back home next Saturday September 17th, taking on the Tampa Bay Rowdies at Keyworth Stadium at 7:30pm. Streaming will be available on ESPN+ and TV20.
For more information about Detroit City FC, visit detcityfc.com.com and follow @DetroitCityFC on Twitter and Facebook and @detroitcityfootballclub on Instagram.
Goal Summary:
DET – Maxi Rodriguez (Matt Lewis) – 42'
DET – Deklan Wynne (Antoine Hoppenot) – 59'
COS – Aaron Wheeler (Kharlton Belmar) – 90+2'
##DCFC##
Please send all media inquiries to media@detcityfc.com.
Primary Media Contact: Alex Wright (Co-Owner | Chief Creative Officer, alex.wright@detcityfc.com)