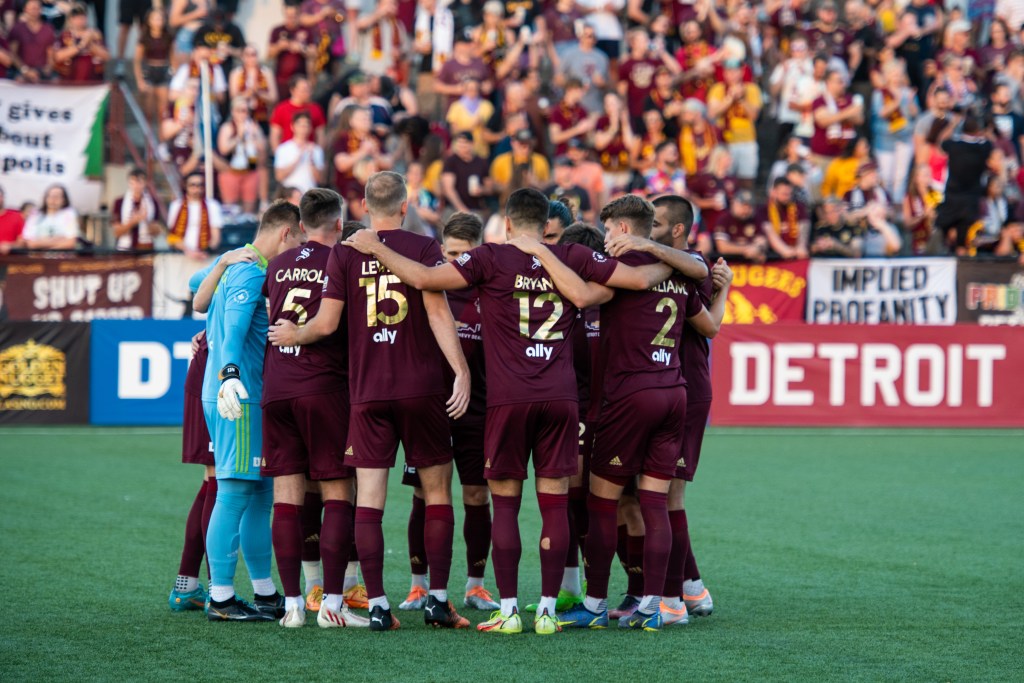 Le Rouge are looking to pick up a big three points on the road against a team that is in red-hot form.
Stream (ESPN+) | DCFC Match Notes | 2022 DCFC Roster |Colorado Spring Switchbacks FC Notes | USL Championship Notes
DETROIT, Michigan – Detroit City FC will be away this weekend, travelling west to face Colorado Spring Switchbacks FC who currently find themselves sitting in third place in the Western Conference. The game is this Saturday September 10th at 9:00pm EST at Weidner Field and it will be streamed on TV20 and ESPN+.
This past Saturday, Le Rouge played Indy Eleven at home at Keyworth Stadium, leaving with a point in a 0-0 draw. DCFC had the best opportunity to score when defender Michael Bryant crossed the ball in front of the net to forward Conner Rutz. He headed the ball to midfielder Maxi Rodriguez, whose shot just hit underneath the cross bar and didn't cross the line.
Detroit now has a 11-10-6 record, which has them currently sitting in 7th place in the USL Championship Eastern Conference, just 16 points off 1st place Louisville City. They are just one point off 6th place, behind Miami FC with a game in hand.
In his first game this season, defender Richard Foster made an impact coming on in the 79' minute and was involved in many attacking plays. On August 15th he was announced as a new signing, in a player-coach role as he also is taking up a spot on Trevor James' First Team coaching staff.
The Colorado Springs Switchbacks FC hold the 3rd place spot in the Western Conference, with a total of 51 points and a record of 16-3-9. The Switchbacks are currently on a three-match winning streak and have a 3-1-1 record over their last five games. They won against Tampa Bay Rowdies (1-0), New Mexico United (1-0), and Phoenix Rising FC (1-0). Their lone draw came against El Paso Locomotive FC (4-4) and their single loss was against Sacramento Republic FC (3-0).
Forward Hadji Barry has played in all 28 of the Switchbacks games this season and he stands alone in 2nd place in the league with a total of 16 goals. His nine assists have him tied for 2nd place in the league and he has 57 shots, good for a tie for 8th place. Barry has also created 53 chances, where he stands alone in 7th place. He was named to the Team of the Week three times this season including Weeks 8, 15 and 19.
Forward Michee Ngalina has played in all 28 games this season and was named to the Team of the Week seven times including Weeks 4, 7, 13, 14, 15 and 19. His nine goals has him tied for 18th place in the league and his eight assists has him tied for 5th place. He has 60 shots this season, good for a tie for 4th place and 35 chances, which has him sitting in a tie for 30th place in league play.
Next Saturday, September 17th at Keyworth Stadium, City is back home to take on the Tampa Bay Rowdies, with kickoff at 7:30pm.
Follow @DetroitCityFCM on Twitter for in-match updates. For more information about Detroit City FC, visit detcityfc.com and follow @DetroitCityFC on Twitter and Facebook and @detroitcityfootballclub on Instagram.
Please send all media inquiries to media@detcityfc.com.
Primary Media Contact: Alex Wright (Co-Owner | Chief Creative Officer, alex.wright@detcityfc.com)