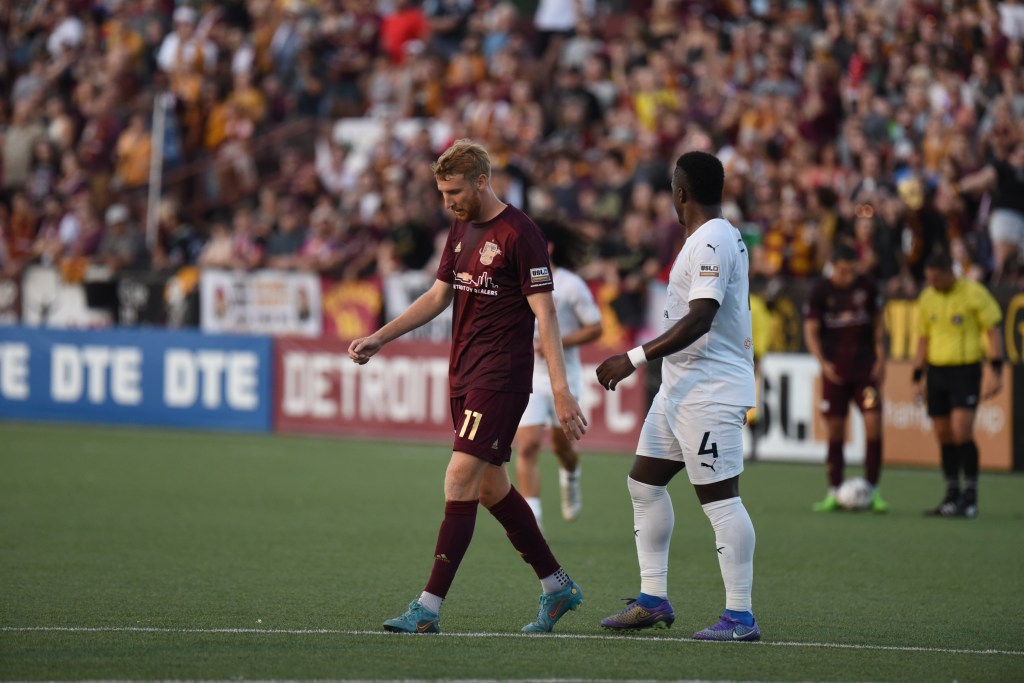 HAMTRAMCK, Michigan – With a late push into stoppage time, Detroit City Football Club (11-10-5) was unable to find the back of the net, but ended the game with a single point on a 0-0 draw versus Indy Eleven (8-5-14) at Keyworth Stadium on a Saturday night.
It was a quiet first half, with neither team able to get on the scoreboard. For the first 15 minutes of play, City controlled the play and just missed on a goalscoring opportunity when midfielder Maxi Rodriguez banged it underneath the crossbar at the seven-minute mark. Forward Antoine Hoppenot used a free kick to pass to defender Michael Bryant on the right outside. Bryant then crossed the ball to forward Connor Rutz waiting at the back post and headed it to Rodriguez, who was unable to cleanly get the ball into the net.
As time went on in the second half, City became more aggressive and pushed hard down the field with multiple scoring opportunities. The best chance came on a low cross by Hoppenot to Rodriguez in front of the goal where Indy goalkeeper Tim Trilk had to make a diving save to keep Detroit off the scoreboard.
Making his debut for Detroit tonight at the 79th minute, defender Richard Foster entered the game and immediately got involved in several attacking plays down the far-sided flank.
DCFC dominated in many of the statistical categories tonight including 62% possession, six corners to Indy's 0, 164 more passes than the Eleven and 37 crosses to Indy's seven. City ended the game with 11 shots and two on target, while Indy only had five shots total with one on target.
Le Rouge will travel out west this upcoming Saturday September 10th, taking on Colorado Springs Switchbacks FC at Weidner Field at 9:00pm. Streaming will be available on ESPN+ and TV20.
For more information about Detroit City FC, visit detcityfc.com.com and follow @DetroitCityFC on Twitter and Facebook and @detroitcityfootballclub on Instagram.
Goal Summary:
DET – NA
IND – NA
##DCFC##
Please send all media inquiries to media@detcityfc.com.
Primary Media Contact: Alex Wright (Co-Owner | Chief Creative Officer, alex.wright@detcityfc.com)