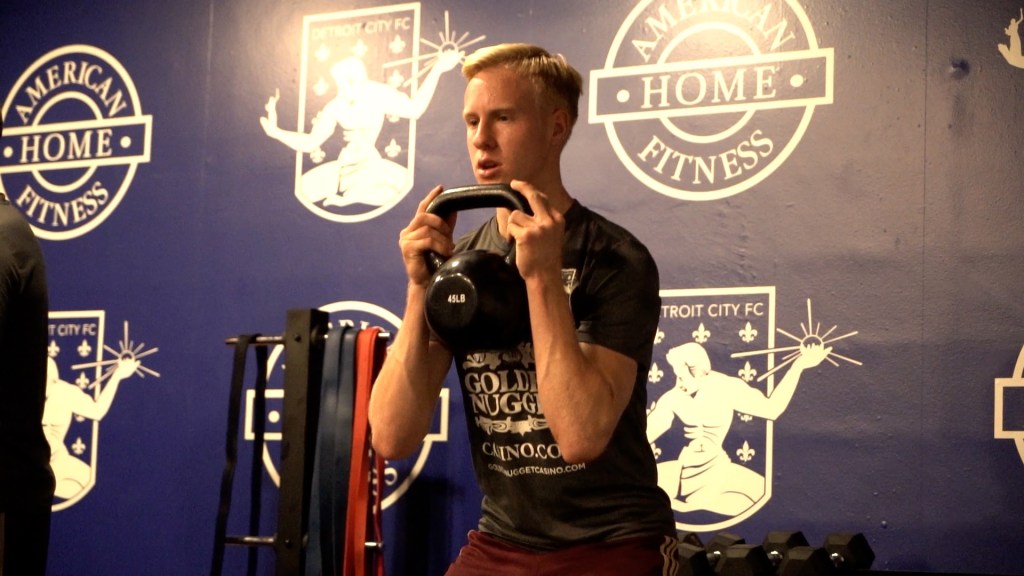 As Detroit City FC finds themselves in the midst of a playoff push in their inaugural season in the USL Championship, they will need to be firing on all cylinders. One of the people most responsible for ensuring this is Sam Joyce, who was named the clubs first ever Head of Physical Performance ahead of the 2022 campaign.

This month's 'Look into the DCFC Players' Gym' focuses on how the squad is working together to push each other to be ready for a deep playoff run.
Keeping the Squad Fit into the Later Stages of the Season
"The first half of the season was focused around building a solid strength foundation that's built around what are the most common injuries in soccer," Joyce explained when asked about how the squad has grown as the team enters the business end of the season.

"The trend we've started to see a little bit is that our non-contact injuries are on the decline, the injures we've got recently have been more guys getting kicked, a ball bouncing off of a toe, little freak things like that rather than the earlier season ones, such as hamstring pulls and groin issues." Joyce went on to say, emphasizing the importance of building up the physical standard for the squad who will have to play three matches in one week from September 17-24.
"The Best Ability is Availability"
Detroit City FC has seen their fair share of injuries throughout the course of the long and winding USL Championship season – last week in Charleston, the team had three players listed on the injury report.

"The whole idea of going to the gym is to protect the guys and make them bulletproof with the strength foundation and to also increase physical performance . . . The best ability is availability," Joyce said, attributing the team's strength to the resources available in the gym.
Relationships on the Pitch, In the Gym
"The gym we've got is amazing, the boys are pushing each other on, they've got the music going in there but the main thing I like about it is seeing them holding each other accountable, almost like they're semi-coaching each other," Joyce mentioned.
##DCFC##
Each month Detroit City FC and American Home Fitness will give a look inside the DCFC Players Gym, giving recommendations for exercises and how-to's from the pros and staff.
Sam Joyce joined Detroit City FC as the Club's first-ever Head of Physical Performance ahead of the 2022 campaign. Joyce comes to Detroit after spending the past three seasons with Indy Eleven in the same role. Prior to his time in Indy, Joyce was on staff with Nottingham Forest FC from 2012-2019 – serving as the lead strength and conditioning coach for the U9-16s before taking over for the U18s in 2016. He first joined Nottingham as an intern before being brought on full-time in 2014.