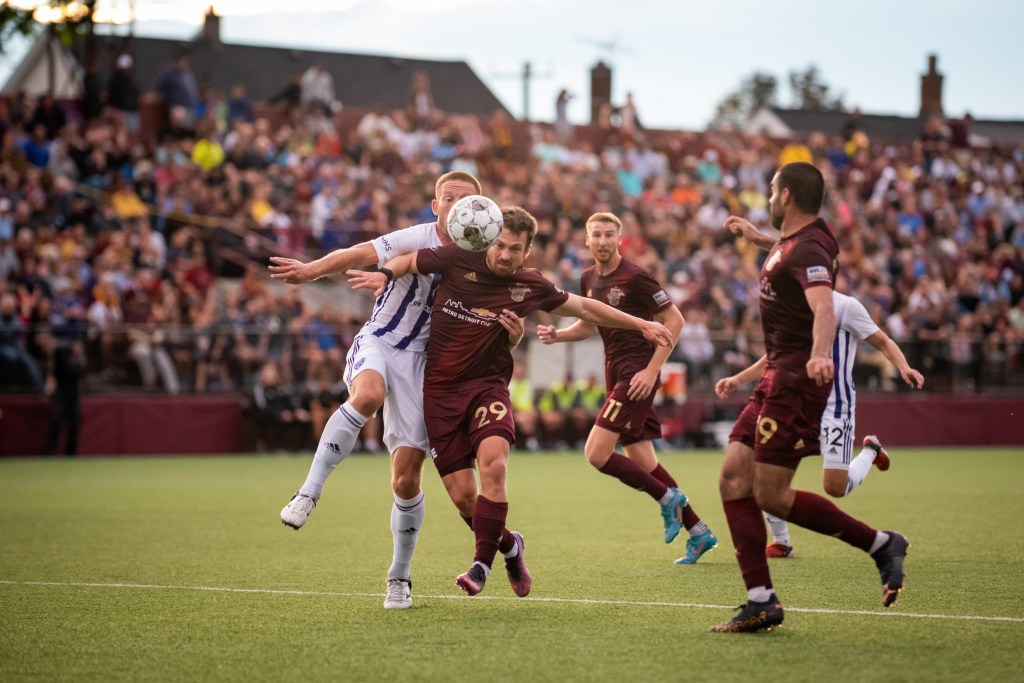 Antoine Hoppenot faced off against his former team for the second time this season
DETROIT, Michigan- The Detroit City Football Club suffered a loss against Louisville City FC at Keyworth Saturday night. The two clubs previously met earlier in the Round of 32 in the U.S. Open Cup, a match in which Detroit lost in a penalty kick shootout.
The first half was a well fought battle on both sides resulting in neither team scoring in the first 45 minutes.
However Detroit was able to get a couple of good chances thanks to the dynamic duo of full-backs Rhys Williams and Deklan Wynne. Wynne was able to get a solid pass to Williams within firing range at the 26th minute, but his shot just slightly missed the post.
Detroit also had three corner kicks in the first half, but were unable to capitalize on any scoring opportunities. Despite getting off to a hot start, the visitors also slightly maintained possession over Le Rouge throughout the first 45 minutes.
The beginning of the second half was much of the same story. Both clubs' defenses were at the top of their game and were able to fend off all offensive attacks. That was until Louisville was finally able to break through the Detroit backline at the 66th minute and Sean Totsch put the ball in the net to finally break the lull in action and put his team up 1-0 on a spot kick.
Louisville City FC ended the match with nine men as they were shown two red cards in the second half, one to #6 Wes Charpie for a foul on Antoine Hoppenot and another one in second half stoppage time as #14 Wilson Harris was shown a second yellow card for time wasting.
Le Rouge had opportunities to make it up, but were not able to answer, ultimately suffering a shutout at home.
Detroit City will travel to South Carolina next Saturday, August 27 to take on Charleston Battery. Kickoff is set for 8 p.m. with streaming available on ESPN +.
For more information about Detroit City FC, visit detcityfc.com.com and follow @DetroitCityFC on Twitter and Facebook and @detroitcityfootballclub on Instagram.
Goal Summary:
LOU – Totsch' 66 (PK)
##DCFC##
Please send all media inquiries to media@detcityfc.com.
Primary Media Contact: Alex Wright (Co-Owner | Chief Creative Officer, alex.wright@detcityfc.com)