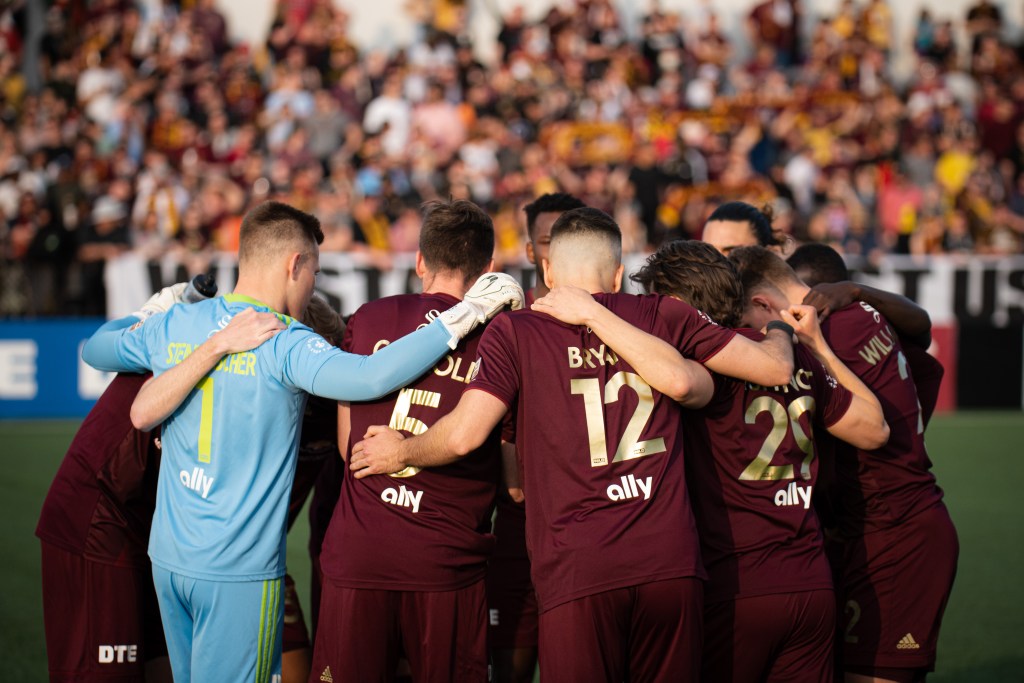 Detroit City FC has faced Louisville City FC twice before in the US Open Cup but the sides have yet to meet in league play
Stream (ESPN+) | DCFC Match Notes | 2022 DCFC Roster |DCFC Digital Program | Louisville City FC Notes | USL Championship Notes
DETROIT, Michigan – Detroit City FC are back home this Saturday after a quick road trip to Alabama for a mid-week matchup. They will be facing the USL Championship Eastern Conference leaders, Louisville City FC, for the second time this season. Their first matchup earlier this year was during the Lamar Hunt U.S. Open Cup Round of 32, which City lost in a penalty kick shootout by a score of 4-2. The game is this Saturday August 20th at 7:30pm EST at Keyworth Stadium and it will be streamed on TV20 and ESPN+.
This past Wednesday, City travelled to Birmingham, Alabama to play Birmingham Legion at Protective Stadium. City won 2-1 and it was their first win in four games, with their last win July 9th, against Indy Eleven (1-0). Detroit took a lead in Birmingham in the 66' minute when forward Antoine Hoppenot crossed a ball that found a waiting forward Connor Rutz, who connected with a spectacular bicycle kick for the goal. Just two minutes later, Birmingham answered back with a goal by forward Prosper Kasim, who had an amazing left footed shot from just outside of the area following a clever dribble. Detroit didn't let up as they took the lead back in the 82nd minute. Hoppenot took a corner and found defender Matt Lewis in front of the net, who headed the ball past the Birmingham keeper and into the back of the net.
Detroit City FC now has a 10-9-5 record, which has them currently sitting in 6th place in the USL Championship Eastern Conference, just 13 points off 1st place Louisville City. They are four points off 5th place Pittsburgh Riverhounds.
Forward Antoine Hoppenot came on as a sub in the Birmingham match in the 58' minute and made a huge impact. He earned two assists on the Rutz and Lewis goals. This was his second time earning multiple assists in a game. The last time it happened was on May 14th versus Loudoun United. Hoppenot is now the all-time assist leader in the DCFC Professional Era (2020-Pres) with seven assists, passing defender Deklan Wynne who has six. He also has scored five goals this season and has him tied for second place on the team. Hoppenot has created 50 chances in league play, with 13 of them being big chances.
Defender Matt Lewis scored his first ever USL Championship goal in Birmingham, and it was an important one, being the game winner. Lewis has played and started in 15 games and has played 1,328 minutes. He has a passing accuracy of 80.2%, good for second best on the team. He has made seven key passes and has one assist this season. He also has made 49 clearances, 11 blocks and 28 interceptions on the back line.
Louisville sits in 1st place at the top of the standings in the Eastern Conference, with 48 points and a record of 16-4-3. Louisville is currently on a three-match winning streak and a nine-game undefeated streak. Their last loss was on June 5th against the Tampa Bay Rowdies (1-0). In their last five games, they are 4-1-0. They won against Memphis 901 FC (2-1), El Paso Locomotive (1-0), Charleston Battery (4-1), and the Tampa Bay Rowdies (1-0). Their lone draw was against Phoenix Rising FC (0-0).
Forward Brian Ownby is on the league leaderboard for goals with eight this season, placing him in a tie for 19th place in the league. Ownby also has four assists on the season, good for 34th place. He is in a tie for 7th place with 49 shots and tied for 18th place with 36 chances created. He also leads the team with 25 shots on target. Ownby has played in all 23 games for Louisville this season. Ownby was named to the Team of the Week for Weeks 2, 18 and 19.
Forward Wilson Harris has 10 goals which sits him in a tie for 12th place in the league. Harris is also tied for 14th place in league play with 44 shots. He is 2nd on the team with 23 shots on target and has a 71.3% passing accuracy.
Defender Wesley Charpie has played in all 23 of Louisville's games this season. He leads the team in clearances with 41, blocks with 11, interceptions with 34 and passes with 1,073. His passing accuracy is 83.2%. Charpie was named to the Team of the Week for Week 6.
Next Saturday, City travels to South Carolina to take on Charleston Battery. This game will be at Patriots Point Soccer Complex on Saturday August 27th, with kickoff at 8:00pm
Follow @DetroitCityFCM on Twitter for in-match updates. For more information about Detroit City FC, visit detcityfc.com and follow @DetroitCityFC on Twitter and Facebook and @detroitcityfootballclub on Instagram.
Please send all media inquiries to media@detcityfc.com.
Primary Media Contact: Alex Wright (Co-Owner | Chief Creative Officer, alex.wright@detcityfc.com)