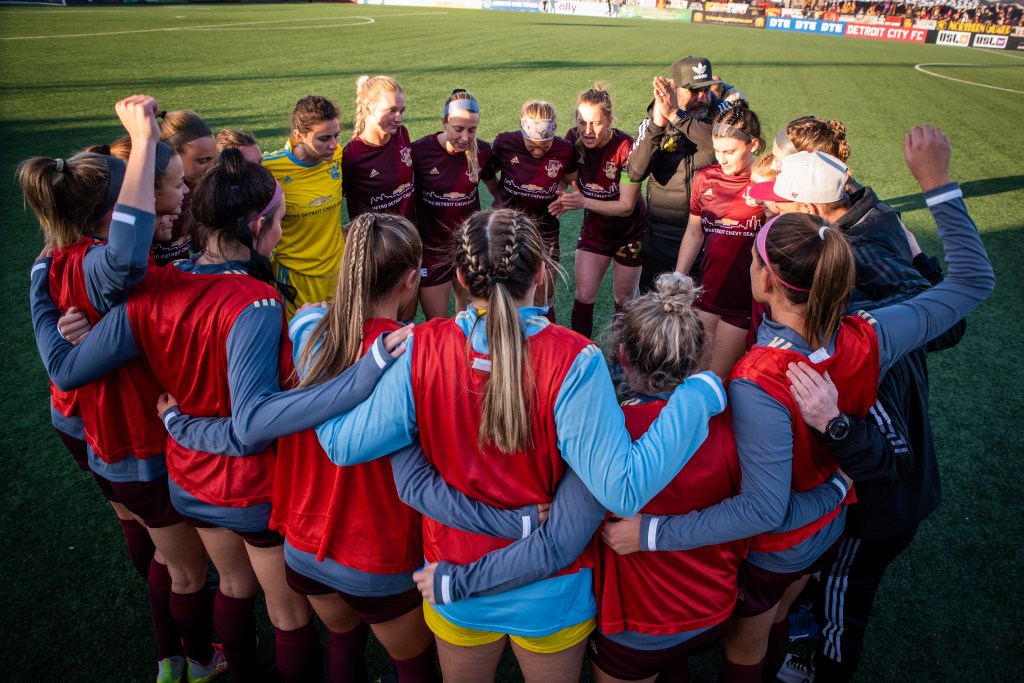 Detroit City FC finished in fifth place in the Great Lakes Division in their inaugural season in the USL W League.
Women's Team End of Season Notes | USL W League Stats
The inaugural USL W season has officially come to a close in Detroit. The Detroit City Football Club finished in the middle of the Great Lakes Division standings with a 3-6-3 record and are already looking to the future with preparation for next season.
Head coach Sam Piraine was at the helm for the club's first season in the USL W and couldn't be prouder of what his team was able to accomplish and the direction they're headed.
"It was an honor to be a part of this club starting from 2020, but this year with the USL and the direction the league's going, I was really honored to be a part of that, and to help them make that next step and be prepared for whatever's next in the future," he said.
Since the players come from different experience levels, the team was able to find a leader in former professional and 2022 MVP Shannon McCarthy.
"Shannon brought a different level than what we're used to, she brought in some experience, she definitely brought in leadership and she brought in a mentality that was high intensity training that helped our younger players," said Piraine.
McCarthy was named the 2022 Detroit City Black Arrow, which is presented to the team's MVP annually, in front of thousands of fans at Keyworth during halftime of a men's game. She was ecstatic to be honored in front og the fans that continually showed up to support the women's team all season.
"It's just very, very humbling because they are unwavering in their support no matter if we were playing in Kalamazoo or Louisville, Indianapolis you name it, they were supporting our team with a passion that is unmatched," she said.
It was also incredible for her to receive her award and to play in front of young girls and grow the game so that they can have more opportunities when they grow up.
"That's why I'm doing this," she said. "At the end of the day, the why will always be for the young players that are playing at halftime."
Although McCarthy is proud of what the team was able to accomplish, she sees room for improvement and has higher goals for next season.
"Middle of the table this year in a brand new league is a positive but I would say we have higher expectations," she said "We expect more from ourselves. We want more for our teams, and I think it's bittersweet I would say because, you know, as positive as it was, we just wanted more."
Piraine agrees and also has higher goals going into next season.
"I think one of the biggest things is more consistency in players and having them in a commitment to the whole project," he said. "Coming into this season early and being a part of it to the very end is the goal for next year."
Le Rouge will be back for the 2023 season in the USL W league which already has plans to expand the league and grow the game to more women and girls across the country.