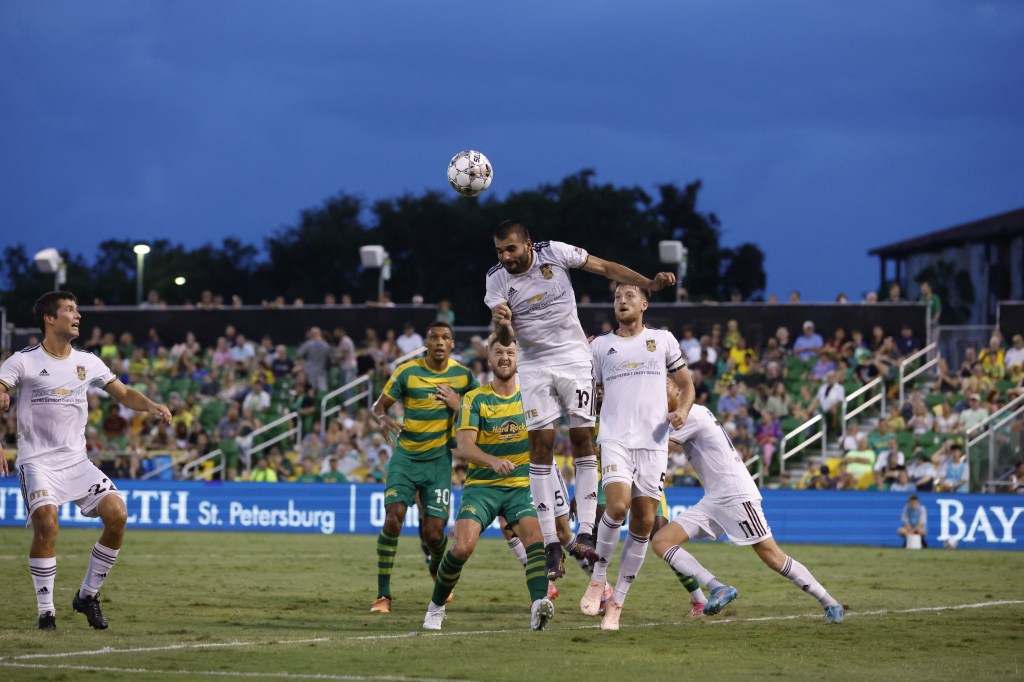 ST. PETERSBURG, Florida – In a tightly contested match between two of the most exciting squads in the USL Championship Eastern Conference, the hosting Tampa Bay Rowdies claimed all three points against Detroit City FC on Saturday night at Al Lang Stadium.
Le Rouge (9-8-5) came into tonight's contest riding high on a five-match unbeaten streak and were looking to put an end to the Tampa Bay (14-6-3) run of twelve matches without a loss and started the match off strong with clever link-up play which saw fullbacks Deklan Wynne and Rhys Williams involved often.
This was most evident in the second minute of tonight's match when #20 Deklan Wynne had a shot from a dangerous area from inside of the Tampa Bay box which was deflected out for a Detroit City FC corner.
All night the contest would swing back and forth for both sides and only seven minutes later, Matt Lewis was called upon to make a clearance off of his own goal line to prevent a Tampa Bay goal from #10 Steevan Dos Santos. Tampa was not afraid to attack Le Rouge in this one as they were able to get off 29 shots on the evening, 14 of them being blocked, nine of them on target and six off target.
Detroit City FC goalkeeper Nate Steinwascher was a menace between the sticks tonight for Le Rouge and with those kinds of shot numbers, he needed to be. His heroics earned him tonight's Man of the Match award.
Both sides went into the locker room wishing that they could have a second chance at some of their attacking opportunities that passed them by in the first half as the scoreline was deadlocked at 0-0 following the first 45' of play.
Coming out of the break Tampa Bay really kicked it into high gear as they began to really go after the Le Rouge backline, this would culminate in a chance for the Rowdies in the 64th minute of the match where #10 Steevan Dos Santos was quick to pounce on a rebound and he made no mistake from right in front of the goal to give the Rowdies a 1-0 lead.
The hosts would hold onto this lead for the remainder of the match and do well to keep Detroit City FC at bay. The closest Le Rouge would come was in stoppage time of the second half when a ball fell to the feet of both Connor Rutz and substitute Bosh Tanyi and neither one were able to get a clean strike off meaning Tampa Bay would hold on to their advantage to claim all three points at home.
Detroit City FC will next take the pitch next Saturday, August 13 when they welcome the Oakland Roots to Keyworth Stadium. Oakland will be a familiar opponent to Le Rouge as the two sides faced off a handful of times in NISA play. Kickoff for next weekend's match is scheduled for 7:30PM.