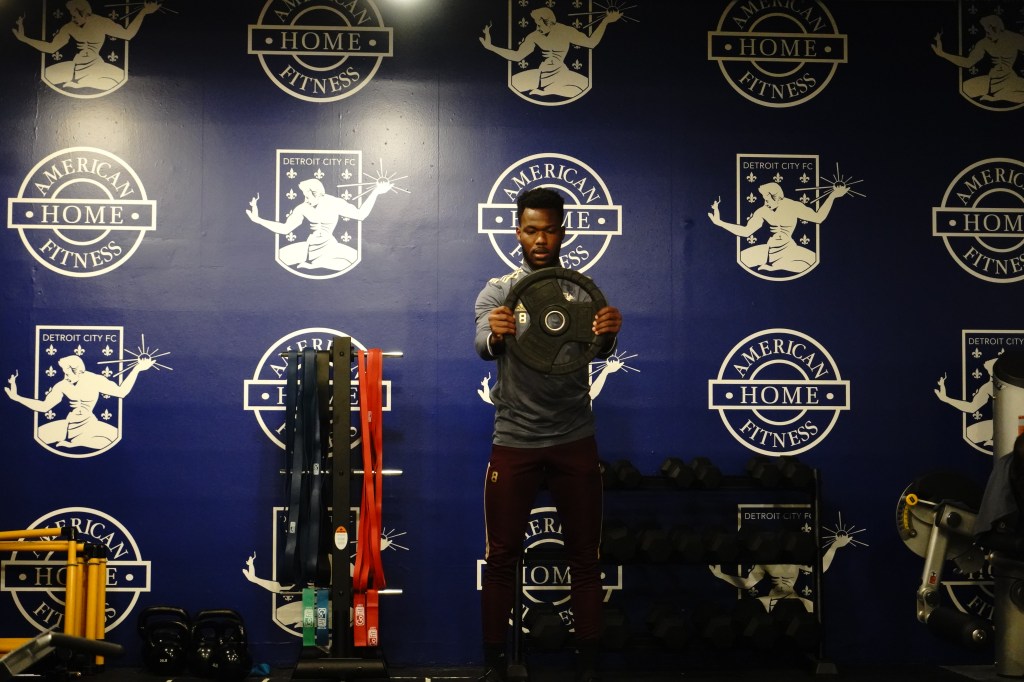 It's no secret that the Detroit City Football Club has had its share of injuries this season, having lost key players such as Brad Dunwell and Matt Lewis early in the season. However, both were able to make full recoveries and return to play thanks to the medical and athletic training staffs in Detroit.
This month's 'Look into the DCFC Players Gym' focuses on how to build a strong foundation to avoid injuries and rehabilitation if one occurs.
Preventing Injury
According to Joyce, "the first part of dealing with an injury is trying to prevent it in the first place." To do this, he has his players focus on building a strength base as a foundation for all other skills.
Once players have hit the weight room, they can then focus on improving their quickness and agility which can help them avoid injury during play.
"We took the first few weeks of the season to build strength and once we've gotten into the gym here and built strength then we let you add quickness, change your direction, things like that, " said Joyce.
To prevent injury it also helps to have some flexibility as well as a wide range of motion. That's why the team does warmups and full cooldowns with medical training staff after training sessions.
Joyce also spoke to the importance of players building up strength as early as possible in their careers.
"Age is the second biggest factor in injury incidence," said Joyce. "Number one is previous injury just happening again in your career, and number two is age, so use your time when you're younger to get strong."
Rehabbing an Injury
Unfortunately, even with all preventative measures in place, injuries can occur. Here's how Joyce and the staff at DCFC works with injured players to get them back on the pitch.
During rehabilitation, players should continue to focus on building a strength base, but less on flexibility and range of motion.
Joyce explained that if you're working to come back from a non-contact injury it's likely that a muscle has been stretched too far, and therefore the focus should be on regaining strength and the original range of motion they once had.
"What will happen most of the time is the guys will have an adaptive program around their injury," said Joyce. "We don't want any atrophy to happen. We don't want them to get any weaker anywhere else."
He also encourages players to use injuries as opportunities to strengthen other aspects of their game as well as different parts of their bodies.
For example, he explained how Lewis, who was out for a few weeks with a foot injury, used his time off the pitch to work on his upper body strength and even hit a new PR on his bench press. This allowed him to come back as an even stronger player when he eventually made his return.
##
Each month Detroit City FC and American Home Fitness will give a look inside the DCFC Players Gym, giving recommendations for exercises and how-to's from the pros and staff.
Sam Joyce joined Detroit City FC as the Club's first-ever Head of Physical Performance ahead of the 2022 campaign. Joyce comes to Detroit after spending the past three seasons with Indy Eleven in the same role. Prior to his time in Indy, Joyce was on staff with Nottingham Forest FC from 2012-2019 – serving as the lead strength and conditioning coach for the U9-16s before taking over for the U18s in 2016. He first joined Nottingham as an intern before being brought on full-time in 2014.