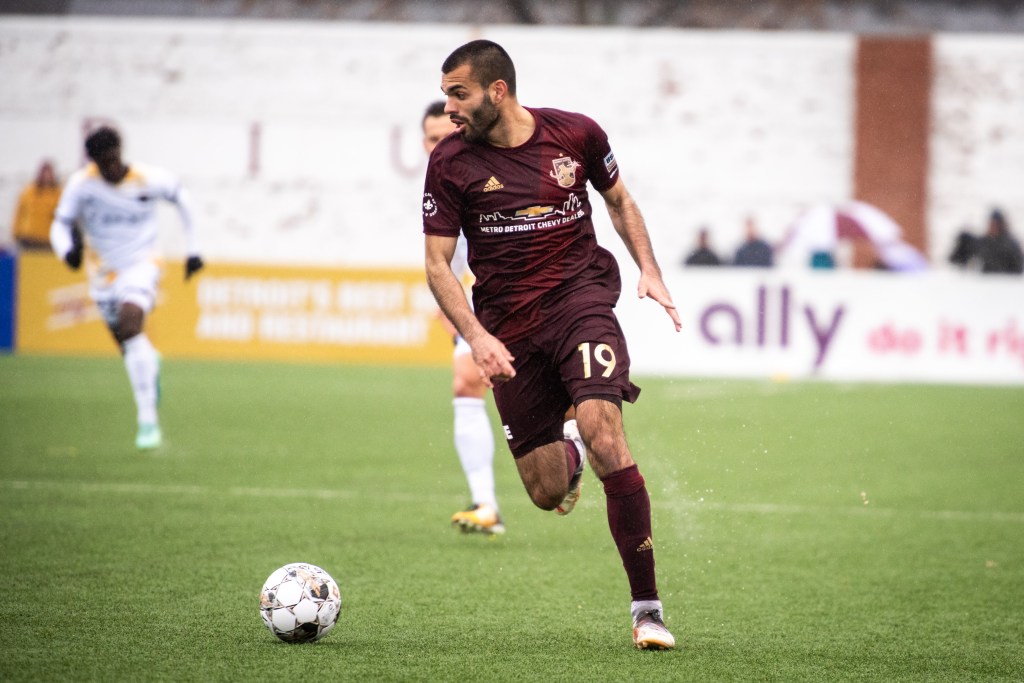 Pato Botello Faz first appeared for Detroit City FC in 2021 having previous stints at the Lansing Ignite and South Georgia Tormenta
Pato Botello Faz has been an unstoppable force for Detroit City's offense this season. In 18 appearances, he currently leads the club with six goals and plays a key role in almost every offensive possession.
It appears that after two seasons with Le Rouge, he has found a home away from home that has allowed him to thrive on and off the pitch. This was made possible by his family back home in San Antonio, as well as his new family in Detroit.
Family and friends have even played a key role in his move to Detroit. In fact he said that Detroit City's signing of Maxi Rodriguez, a fellow San Antonio resident, heavily influenced his decision to join the club.
That decision turned out to be life changing. With the support of his family and with his friend by his side, he became a dependable asset in his first season in the NISA League, finishing with eight goals and three assists.
Although he had a solid first season in Detroit, he has taken his play to the next level in the club's first season in the USL Championship League. He claims part of the reason for his success is the support from everyone in the organization, from the supporters all the way to the front office. Even though he says it's a bit of a cliche, they make it feel like a family.
"They make you feel like home, which is something that's super important for me because when I'm with my family, I think I do better," he said.
Two of his favorite memories as a player include playing in front of his family in San Antonio to open the season, and scoring against El Paso with his brother in the crowd.
General Manager Trevor James echoed the importance of family, and how the club creating their own in Detroit has helped them on the pitch.
"I think part of our success as a club is that we do try to involve everybody as one big family, and then sort of translates onto the effort that everybody gives, because nobody wants to let anybody else down," he said.
Although the team is very close, competition is fierce when it comes to clubhouse Ping Pong matches. Despite many challenge attempts, Botello Faz remains undefeated, a feat he claims was done with ease.
"I think if there was a USL championship in Ping Pong, I'd be number one," he said.
In addition to family, he also attributes his success to a more relaxed approach he's taken this season.
"I think I put too much pressure on myself sometimes so when it's not going my way I put more and more pressure on myself and it just messes everything up," he said.
Being a superstitious person, this approach wasn't easy to adopt, but he's found a way to keep moving forward if a play doesn't go as expected and keep working until he gets the desired result.
"He deserves every minute he's got," said James "He's working his socks off and he's doing it at the end of the field where it's, you know, it's not a comfortable end of the field. You do get knocked around a fair bit and he gets knocked around a fair bit but jumps up and still keeps at it, so he's been outstanding."
Botello Faz, who is a native of Monterrey, Mexico, is fluent in both Spanish and English. Although he prefers to use English around his teammates, he speaks Spanish everyday with Maxi.
"Here on the team, we try to speak English because we don't want people to think we're talking about them or something, when we're never doing that," he said. "We're always just talking to each other, but yeah, we try to keep it in English here, but sometimes on the field, yeah, we switch it up a little bit."
Although James joked that he thinks they're talking about him in Spanish, he said if switching up languages on the pitch gives them an advantage, he's all for it.
Botello Faz will be back in action Saturday, August 6 in St. Petersburg, Florida as Detroit City takes on the Tampa Bay Rowdies. Kickoff is set for 7:30 p.m.