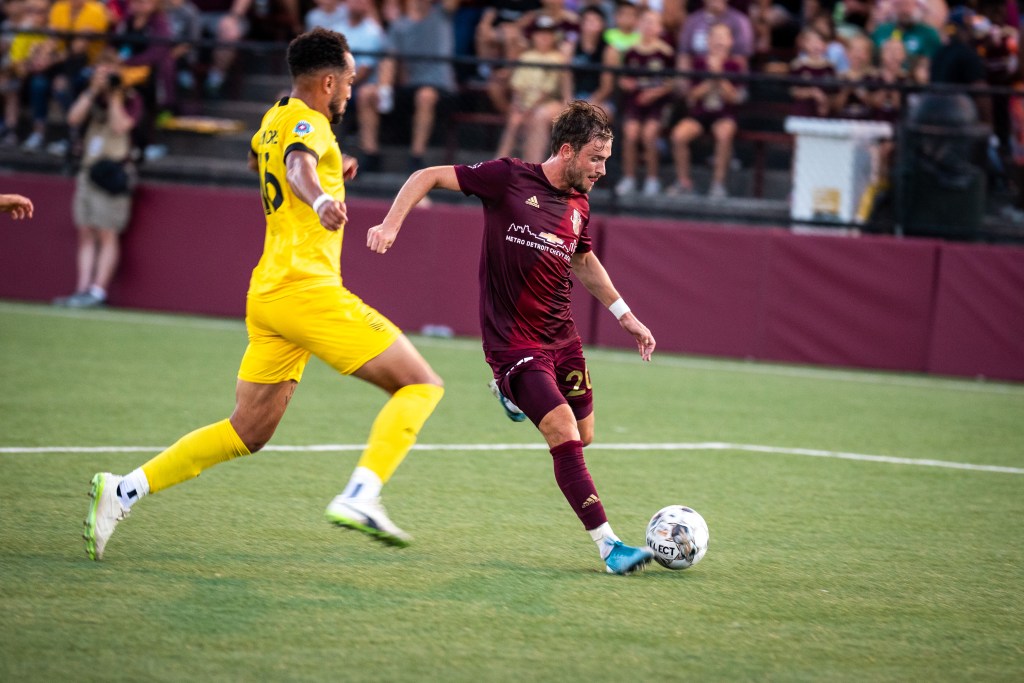 Detroit City FC scored two goals in a match for the first time since May 21
DETROIT, Michigan- The Detroit City Football Club suffered a heartbreaking 2-2 draw to New Mexico United Saturday night at Keyworth on a goal at the death by New Mexico's Neco Brett.
Le Rouge split possession almost 50/50 with the visitors throughout the first half which seemed to set the tone for the rest of the match.
Detroit City (9-8-4) got a solid chance in the 21st minute when forward Connor Rutz took possession on a turnover and managed to pass the ball off to midfielder Rhys Williams who just narrowly missed the goal.
Just minutes later, they were given another chance, and this time they didn't miss. Forward Pato Botello Faz was fouled inside of the area at the 25th minute, resulting in a penalty kick for midfielder Maxi Rodriguez who then put the ball in the net to give Le Rouge a 1-0 lead. Including tonight's goal, Rodriguez remains perfect at Keyworth when it comes to penalty kicks.
Keeping in line with the theme, New Mexico United (9-8-3) hit the equalizer at the 30th minute on a free-kick from Chistopher Whehan that soared over the heads of the Detroit defenders and found a spot at the top of the net and past an outstretched Nate Steinwascher.
The second half was almost an exact replica of the first, but with a heartbreaking ending. Detroit City's Rutz played a perfect cross-field ball to midfielder Deklan Wynne who then put his team up 2-1 with a goal at the 62nd minute.
With victory in sight for Le Rouge, the referee called for an additional five minutes of stoppage time to be played in which Brett put a well taken strike past Detroit's goalkeeper Nate Steinwascher to secure the draw. Steinwascher finished with four saves on the night.
Detroit City returns to play Saturday, August 6th to take on the Tampa Bay Rowdies in St. Petersburg, Florida. Kickoff is set for 7:30 p.m. with streaming available via ESPN +.
For more information about Detroit City FC, visit detcityfc.com.com and follow @DetroitCityFC on Twitter and Facebook and @detroitcityfootballclub on Instagram.
Goal Summary:
DET-Rodriguez 25'
NM-Wehan 30'
DET- Wynne (Rutz) 62'
NM- Brett (Portillo) 90+2'
##DCFC##
Please send all media inquiries to media@detcityfc.com.
Primary Media Contact: Alex Wright (Co-Owner | Chief Creative Officer, alex.wright@detcityfc.com)