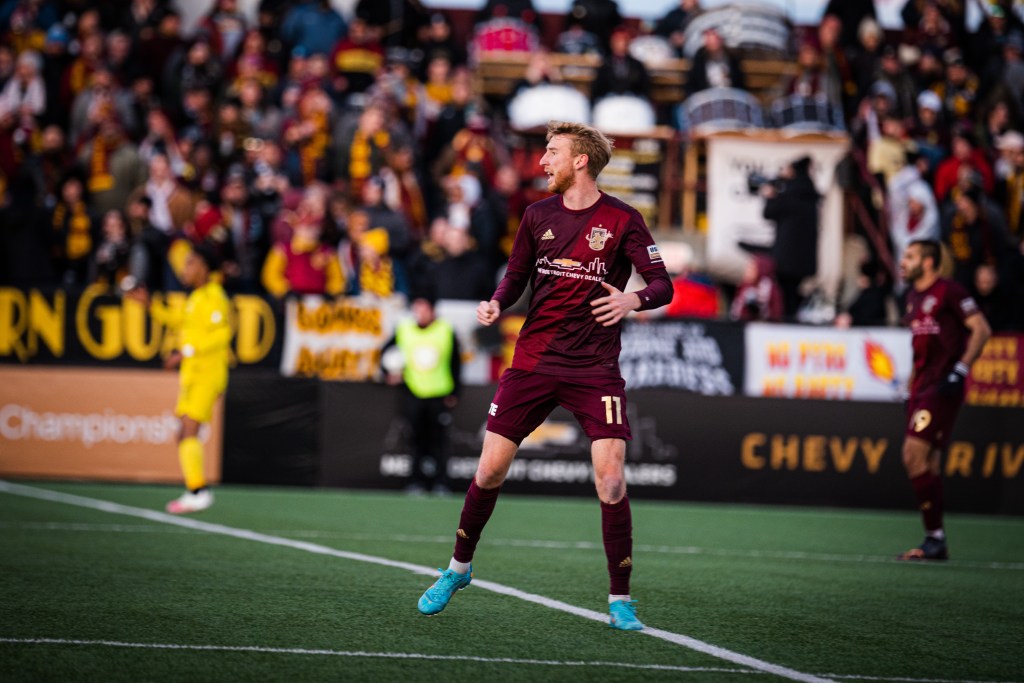 Forward Connor Rutz has been with Detroit City FC since the 2020 season and has been a crucial part of Trevor James' success at Le Rouge.
Connor Rutz is back for his third season with the Detroit City Football Club. The Commerce Charter Township native is coming off his most productive season with the club in 2021, netting five goals with two assists – highlighted by a bicycle kick that earned him a top spot on Sportscenter's Top 10.
Because of his stellar performance a season ago, Rutz was named the 11th Black Arrow Award winner in Club history as voted on by the supporters, making him Detroit City's 2021 MVP.
"Last year, I think I contributed a lot with goals," Rutz said. "I think I was either at the top or tied with most goals, was up there with assists, and I think I played just about every minute of the season."
Connor Rutz found his first league goal of the season against Las Vegas Lights FC on the road on July 2, his first goal in league play since the 3-2 match against the Michigan Stars on November 20, 2021. His goal in Vegas ended up being the match winner. Rutz had gone over 1,343 minutes without scoring a league goal but his mentality never changed.
"My role is to bring energy," he said. "I do a lot of running for the guys. I've tried to track back as much as I can to help defensively, but also trying to get up getting into the box to score goals."
General Manager and Head Coach Trevor James noticed Rutz's ability to get up and down the field, changing tactically how the forward fits in the starting XI now that the club has moved up a division in the U.S Soccer Pyramid to the USL Championship.
"His work rate is always at the top of the list," said James. "He runs further, he runs as fast as anyone else, so you know what you're gonna get with Connor every single game. He gives you the same thing. He's very competitive and he's a goal threat, and with the way we play we need people with the work rate to get in the box as he does."
Rutz hasn't yet had the offensive presence he would like this season, but he still plays a vital role in the club's scoring.
"I mean, I would definitely like to be on the stat sheet more," Rutz said. "That's something I'm trying to work on, but yeah, I think the work sometimes isn't always seen, just how much running I do and how much running everyone does. I mean we wear GPSes so we know exactly what we're doing."
Le Rouge has fared well in its first season in the USL Championship, which has come to no surprise to Rutz. He believes the club underestimated just how much talent they have.
"I think we underestimated ourselves," he said. "We're better than we think. When we came to this level, it wasn't too big of a jump, just a more professional league, more professional players, and we knew we had the quality."
Because the club has struggled with injuries as of late, having quality bench players along with starters has helped them.
"We know it's gonna happen," he said. "It's a long season, so we just gotta adapt. We have good players on the bench, good players ready to play, hungry to play, so we just need to adapt to each player's style of play when they're in and keep fighting."
Also making the jump to the new league are the DCFC supporters, who haven't wavered in their support for the club and the players, including Rutz, have noticed.
"I would definitely hate to come play here away," Rutz said. "Playing at Keyworth is an awesome experience. Opposing players even talk to me on the field. They're like these fans are awesome, I wish we had this. It's incredible. They're our 12th man out there."
Rutz and the rest of the side look forward to stepping back out in front of the supporters when they return home from a two-game road trip to Indy Eleven and Monterey Bay FC. Le Rouge will welcome New Mexico United to Keyworth Stadium on Saturday, July 23 after the road stint. Kickoff is set for 7:30 pm and tickets are available at tickets.detcityfc.com.