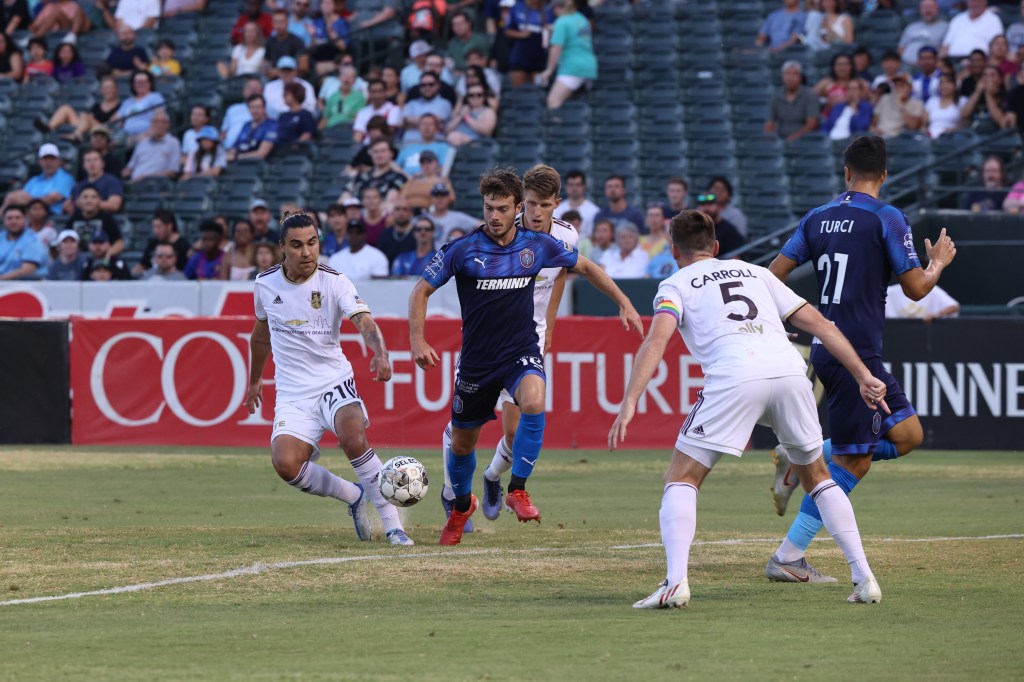 Le Rouge dropped just its fourth decision of the season, falling to first-place Memphis 901, 2-0.
MEMPHIS, TENNESSEE – On a hot and humid night in Memphis, Detroit City Football Club (7-5-4) was held scoreless for just the third time this season, falling 2-0 at Memphis 901 FC (11-2-3) on Saturday at Autozone Park. 
The opening 45 minutes went back and forth with Memphis generating the better of the chances early on before City began finding space in the attacking third.
Forward Connor Rutz had a look on frame in the 22nd with a strike from just outside the area that was turned away by a diving Trey Muse to his far post.
Memphis jumped on top in the 38th off a free kick – just the fourth tally this season surrendered by DCFC following a set piece. Aaron Molloy played a ball into the area for Graham Smith to connect with a header and beat goalkeeper Nate Steinwascher just inside the post. 
The second half, City couldn't swing the momentum as Memphis continued to control much of the game despite Detroit City holding the edge in possession.
Steinwascher kept it close with a spectacular diving save off of a sprinting forward Phillip Goodrum in the 57th minute. Goodrum would beat Steinwascher in the 89th – splitting a pair of City defenders and sliding the ball into the left corner. 
The home side outshot Detroit City, 20-7, putting five on frame to Le Rouge's two shots on target. 
Midfielder Brad Dunwell made his first appearance since April 9 after suffering an injury at Atlanta United 2. Dunwell logged 31 minutes in the outing.
Memphis regains first place in the Eastern Conference with the win as Detroit City remains in fourth.
Le Rouge will be on the road once again next Saturday, July 2nd, taking on the Las Vegas Lights at 10:30 pm EST at Cashman Field on ESPN+.
For more information about Detroit City FC, visit detcityfc.com and follow @DetroitCityFC on Twitter and Facebook and @detroitcityfootballclub on Instagram.
Goal Summary:
MEM – Graham Smith (Aaron Molloy) – 38′
MEM – Phillip Goodrum (Derek Dodson) – 89′
##DCFC##
Please send all media inquiries to media@detcityfc.com.
Primary Media Contact: Alex Wright (Co-Owner | Chief Creative Officer, alex.wright@detcityfc.com)