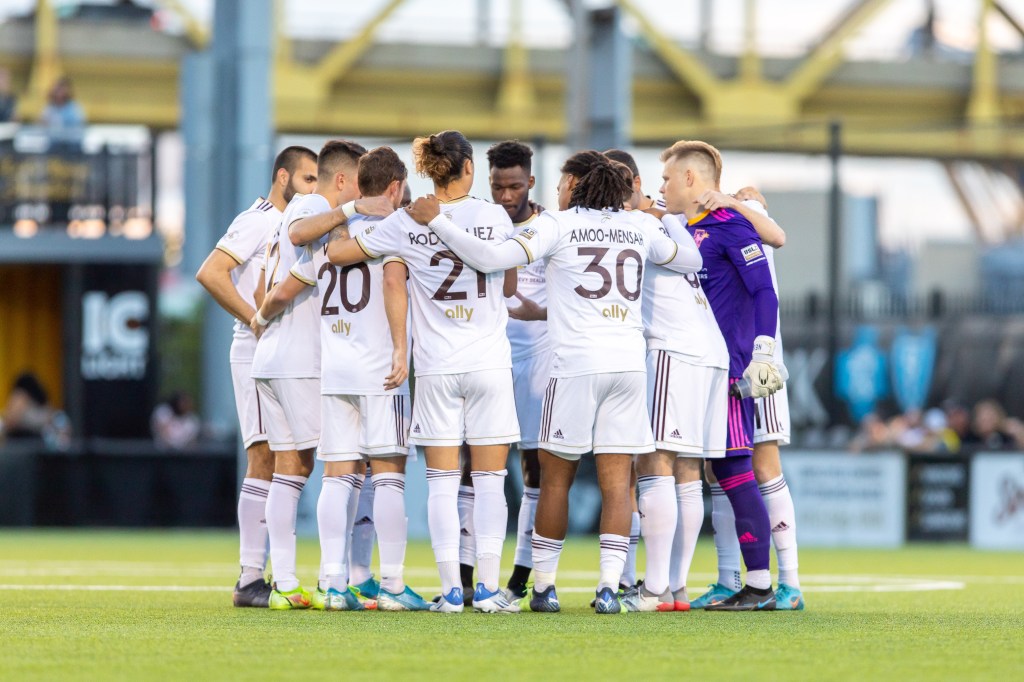 Le Rouge will battle the top side in the East on Saturday, with kickoff set for 8:30 pm ET against Memphis 901 FC.
Stream (ESPN+) | DCFC Match Notes | 2022 DCFC Roster | Memphis 901 FC Notes | USL Championship Notes
DETROIT, Michigan – The Detroit City Football Club travels for just the second time this month to take on Memphis 901 FC on Saturday, June 25, at AutoZone Park in Memphis, Tennessee. Kickoff is set for 8:30 pm ET, with the game streaming on ESPN+.
The last time these two sides faced off was on April 2, ending in a 1-1 draw at Keyworth Stadium. Le Rouge felt hard done to not get all three points – controlling much of the match and led Memphis in shots on target (4-2) and possession (63.1 to 36.9).
Last weekend, Le Rouge battled El Paso to a 1-1 draw in front of a sellout crowd at Keyworth on ESPN. Detroit scored first with forward Pato Botello Faz netting his fifth of the season – tied for the team lead in league play with forward Antoine Hoppenot.
Detroit City FC enters Saturday in fourth place in the Eastern Conference table, six points off Memphis at the top. The top four teams in the East have dropped just three fixtures apiece.
Stephen Carroll made his first appearance on the Team of the Week following Saturday's draw. The Irish center back won eight of 11 duels and won three tackles. Carroll made eight clearances, six interceptions and five recoveries against El Paso. Carroll is currently ranked No. 24 in FotMob's Top-100 players in the USL Championship with an average rating of 7.42 – third highest rating among all center backs.
According to FiveThirtyEight's xG model, Le Rouge generated 2.2 expected goals last time out against the Locomotive – tied for the side's second-best xG performance of the season with its best coming at Hartford (2.8). This was Detroit City FC's best xG differential of the season, though, as City kept El Paso Locomotive to only 0.6 expected Goals – a differential of +1.6 xG.
Coming into this match, Memphis 901 has conceded 216 fouls, good enough for 10th in the league while Detroit City sits in 26th with only 167 fouls conceded. Furthermore, Memphis 901 has received 37 yellow cards this season while Le Rouge have only been put into the referee's book 25 times.
Memphis took over the top spot in the East with a 2-0 win over FC Tulsa midweek – becoming the first team in the conference to reach 10 wins this season. Over the last six games, 901 has posted a mark of 4-1-1, with the lone loss coming against Birmingham Legion FC, 1-0.
Memphis forward Phillip Goodrum enters as the league's second-leading scorer with eight goals – including a tally against City. Midfielder Jeremy Kelly was named the league's Player of the Month in May – edging out DCFC's Hoppenot for the plaudit – tallying three goals and three assists over four matches.
Follow @DetroitCityFCM on Twitter for in-match updates. For more information about Detroit City FC, visit detcityfc.com and follow @DetroitCityFC on Twitter and Facebook and @detroitcityfootballclub on Instagram.
Please send all media inquiries to media@detcityfc.com.
Primary Media Contact: Alex Wright (Co-Owner | Chief Creative Officer, alex.wright@detcityfc.com)