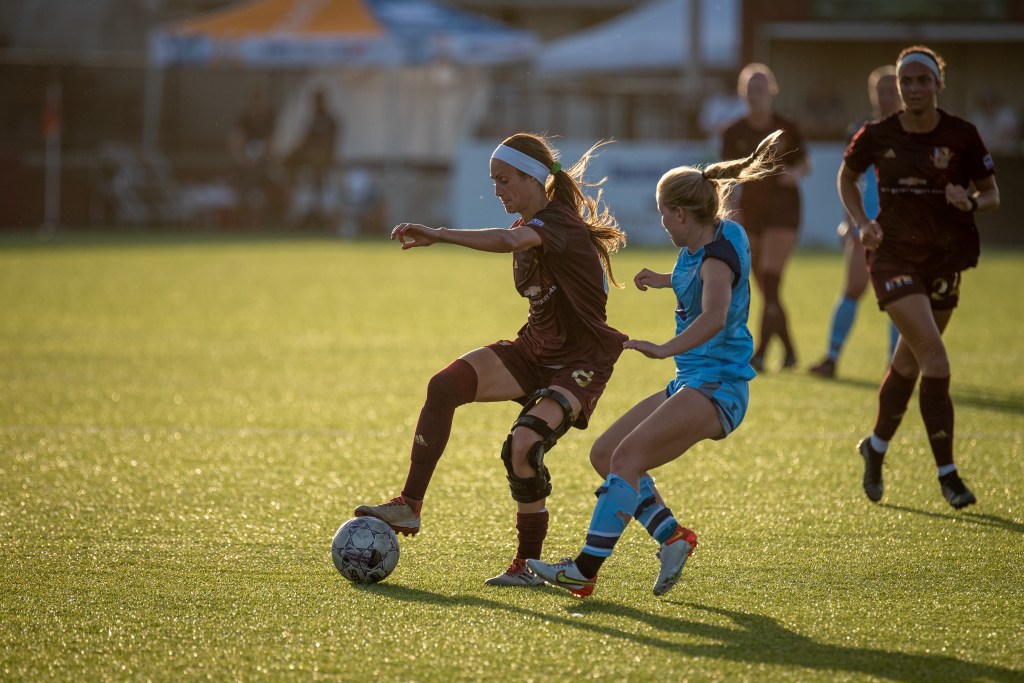 Le Rouge earned three points on Wednesday night with a 2-1 victory over AFC Ann Arbor.
DETROIT, Michigan– The Detroit City Football Club defeated AFC Ann Arbor, 2-1, Wednesday night at Keyworth Stadium. Defender Shannon McCarthy earned Woman of the Match plaudits, netting the match winner in the 41st minute.
Detroit City wasted no time building the attack, maintaining possession for most of the first half. The first big chance of the evening came in just the 11th minute with a scuffle near goal but AFC Ann Arbor would clear the danger.
Le Rouge – looking to avenge a 1-0 loss against Ann Arbor two weeks ago – continued its pressure and struck first in the 15th minute. McCarthy brought the ball up the right side of the field before completing the picture perfect pass to forward Brynn Gardner who headed the ball to the back of the net for a 1-0 Detroit lead.
DCFC doubled its advantage shortly before the half with McCarthy recording her first goal for Le Rouge. After bouncing around in the box, the ball came out to the top of the 18-yard box for McCarthy to finish with a left-footed strike.
Ann Arbor came out in the second half looking to get back on track after a dominant first half from Le Rouge. The Mighty Oak got on the board at the 58th minute on a breakaway that was passed off to defender Ashley Zugay who launched it from close to cut Detroit's lead to one.
The best chance for an equalizer from Ann Arbor came on a free kick at the 82nd minute and bounced off the top of the crossbar. DCFC goalkeeper Gabby Schriver followed the opportunity up with a timely save two minutes later to keep City on top 2-1.
Detroit City outshot Ann Arbor, 17-10. Schriver finished with four stops.
For more information about Detroit City FC, visit detcityfc.com and follow @DetroitCityFC on Twitter and Facebook and @detroitcityfootballclub on Instagram.
Goal Summary:
DET-Brynn Gardner ( Shannon McCarthy) 15'
DET- Shannon McCarthy 41'
AFC- Ashley Zugay (Luana Grabias) 58'
##DCFC##
Please send all media inquiries to media@detcityfc.com.
Primary Media Contact: Alex Wright (Co-Owner | Chief Creative Officer, alex.wright@detcityfc.com)